Well – maybe I'm a bit biased as I'm chair of FraudCON, but I think all who attended FraudCON 3.0 held June 27th as part of Tel Aviv Cyber Week 2019 would agree it was an amazing event. Over 800 people have registered, the hall was packed with fraud fighting professionals, and the content was truly inspiring.
Intuit presented lessons learned from fighting payments fraud, sharing some amazing criminal tales such as the fraudsters who ordered 740,000 straws with 2-day shipping that cost $10,000 alone. The transaction was a scam that relied on the use of a stolen corporate credit card and a request to redirect the shipping cost to "another courier" after the original transaction had gone through.
Our News from the Kingdom panel with folks from Lloyds Bank, CIFAS and FS/ISAC was followed by the Tales from the Colonies panel with practitioners from TD Bank, Royal Bank of Canada and Union Bank showed a striking difference between the emerging threats different regions face. In the U.K., a lot of the traditional online banking fraud has been displaced by the much nastier Authorised Push Payments (voice scams) fraud, which the industry now fights using very subtle behavioral biometric signals showing signs of hesitation, distraction and being guided by a fraudster to conduct a transaction. In the U.S., new account fraud is a major issue, as a result of more than 14 billion personal records being stolen in the last 5 year. Faster Payments, which the UK implemented a decade ago, now haunts fraud teams in the U.S. and Canada where real-time payments are being rolling out for the first time. Mule accounts persist in the U.K., while the preferred method of moving money around in the U.S. is done by taking over an existing account, transferring funds to a new digital account using stolen and synthetic identities, and then cashing out.

Left: News from the Kingdom. Right: Tales from the Colonies
Additional panels throughout the day covered various topics such as marketplace fraud, collusion and opening fake accounts; and eCommerce fraud. There were also talks on Remote Overlay Trojans, business email compromise, 3D Secure 2.0 data sharing opportunities, an interactive game where the audience was asked to decide whether something is real fraud or friendly fraud, and more.

From left to right: Business of Fraud, eCommerce Fraud, Marketplace Fraud panels
In addition to the panels, we presented the Legends of Fraud award to five icons in the field of online fraud fighting:
Mirko Manske from the German Federal Crime Police dazzled the audience with "A Sunday in Hell", a hair-raising story of clever cyber detective work and fighting international bureaucracies;
Avivah Litan, who came up with the original Web Fraud Detection Gartner Magic Quadrant; in her remarks, Avivah shared that she stopped publishing it after realizing a single two-dimensional chart could not depict properly the many layers of defense needed to fight online fraud;
Ken Palla, former director of Union Bank, who adopted many nascent anti-fraud technologies, explained the benefits of being an early adopter;
Idan Aharoni, who established the first commercial fraud Intelligence service in which undercover agents embed themselves in the fraud ecosystem to report on vulnerabilities and new attack methods;
Karisse Hendrick who runs FraudCast with Brett Johnson her partner in crime. Karisse compared fighting fraud to fighting zombies, as the bad guys come back time and again with new tricks up their sleeves.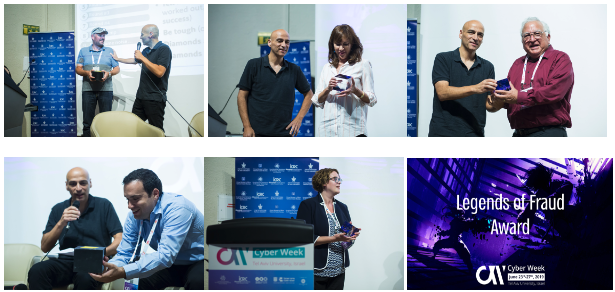 From left to right: Top photos - Mirko Manske, Avivah Litan, Ken Palla. Bottom photos – Idan Aharoni, Karisse Hendrick
BioCatch is a proud sponsor of this annual event which is held every June in Tel Aviv. FraudCON was specifically built by online fraud fighters for online fraud fighters. The event is by invitation only, and allows people who develop anti-fraud strategies, and are responsible for fighting fraud in the trenches and developing fraud detection technologies to talk openly and share experiences and insights. Whereas most fraud events are focused on a specific industry or geography, FraudCON is unique: it brings hundreds of online fraud fighters from around the world, working in such varied industries as banking, eCommerce, Fintech, Crypto, P2P and Marketplaces. If you've visited FraudCON, you'd know what we're talking about, and if you haven't – just mark your calendar as FraudCON will be back in June 2020!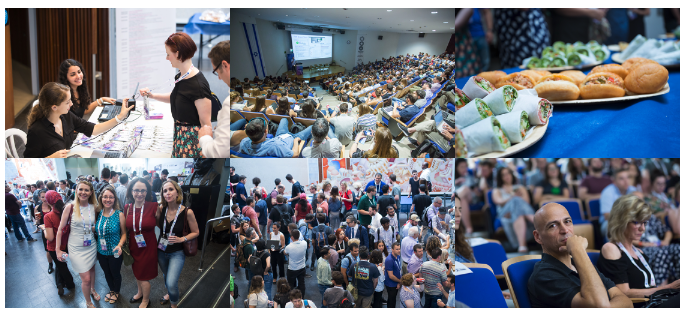 Come visit FraudCON Tel Aviv in June 2020