Payment industry stakeholders spent 2016 adapting to open APIs, omnichannel commerce, EMV chip cards and other major innovations. To ensure security in 2017, the payment industry will be expected to make transactions convenient for customers, while also utilizing the necessary safeguards and strong authentication solutions to prevent new account fraud and bolster cybersecurity.
Trends Impacting Payment Industry Security
A shifting fraud profile post-EMV chips, rising adoption of digital payment methods, and transaction security concerns have shaped the current financial services industry.
The move to EMV chip cards has helped mitigate fraud at the transaction level. Still, card-not-present (CNP) fraud is growing at a staggering rate. Juniper Research sees the value of CNP fraud ballooning from $10.7 billion in 2015 to $25.6 billion in 2020.
Fraudsters are also evolving their identity theft tactics to fraudulently open new accounts. In fact, in just the first half of 2016, we saw 974 worldwide breaches reported with half a billion records already compromised. The migration to EMV chip cards is one factor forcing criminals to create synthetic identities and set up new accounts based on stolen information.
Javelin's head of fraud and security forecast an acceleration in the number of new-account fraud victims from 1.5 million in 2016 to well over 2 million this year. Banks don't even know, Al Pascual told American Banker, "how much of a problem they're really facing."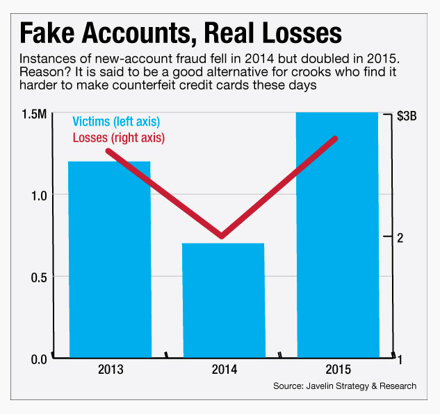 This trend is particularly alarming as attempting to detect fraud is even more difficult when criminals are being issued a valid credit card. Thus, payment players, seeking to differentiate from the competition, continue to explore more innovative ways to provide seamless payment experiences with robust, frictionless security.
"With over a billion mobile customers driving demand, eCommerce today is worth $1.71 trillion and growing every year." — PYMNTS
Securing the Payment Industry
Biometrics is rising to the challenge. With both payers and payees seeking assurance against fraud, risk management is no longer only about preventing fraud, but rather identifying who or what is behind a transaction or new account application.


"Based on the proliferation of mobile devices and the convenience these offer, Goode Intelligence predicts 1 billion customers will use biometrics to access banking services by 2017. " — PYMNTS
That's where the behavioral biometrics can help. Of course, when processing an application for a new account, there is no preexisting user profile to compare that individual against. Yet, behavioral biometrics can help even when nothing is known about the unique applicant. Drawing on a robust understanding of the patterns of both regular users and fraudsters, BioCatch can raise the alarm accordingly.
Without adding any steps for the user, the behavioral biometrics solution looks for criminal behavioral patterns, such as application fluency, navigational fluency and data familiarity to detect a legitimate user from a fraudster. Our frictionless, fraud prevention process even prompted CapGemini Consulting to name us as one of its top three tech start-ups for 2017.
Where there is money, there is fraud. Securing the payment industry in 2017 requires a holistic approach rather than making the choice between security or user experience.
Sources
Crosman, P. (2016, June 9). Identity Fraud: Back with A Vengeance, Harder to Stop. https://www.americanbanker.com/news/identity-fraud-back-with-a-vengeance-harder-to-stop
FirstData. (2010). Where Security Fits in the Payments Processing Chain. https://www.firstdata.com/downloads/thought-leadership/where_security_fits.pdf
Gore, D. (2017, January 30). Retail tech start-ups: who will make it big in 2017? https://www.uk.capgemini-consulting.com/blog/retail/2017/01/retail-tech-start-ups-who-will-make-it-big-in-2017
PYMNTS. (2016, December 20). Payments 2016 The Year of… http://www.pymnts.com/news/payments-innovation/2016/payments-2016-the-year-of/
Perala, A. (2017, January 19). New Android operating System Extends Biometric Authentication. http://mobileidworld.com/android-operating-system-biometrics-001192/
Smith, D. (2016, June 2). Is EMV to blame for an increase in Card-Not-Present Fraud? http://www.cashnet.com/2016/06/02/is-emv-to-blame-for-an-increase-in-card-not-present-fraud/