In 2017, BioCatch was recognized by Frost & Sullivan for New Product Innovation in Biometric Authentication, highlighting the company's position in the emerging behavioral biometrics landscape and how the BioCatch platform helps identify fraudsters without jeopardizing the user experience.
Now, Frost & Sullivan's newest report reaffirms the advantages of behavioral biometrics, concluding that this AI-driven modality "will become the main identity authentication/verification element in two factor or multifactor authentication" and that "businesses will increasingly use AI to aid decision-making as well as for greater behavioral pattern analysis of anomalies."
The reason is clear: as businesses dive deeper into digital initiatives, the need to balance security and usability is becoming more critical than ever. Behavior is the only practical modality that can deliver.
3 Examples of Behavioral Biometrics in Action
The cyber landscape is changing rapidly. How we define use cases for behavioral biometrics is also changing. In this week's blog, we provide three different cases from the wild that demonstrate the power of behavioral biometrics and how BioCatch generates significant ROI for global enterprises.
#1: Detecting Payment Fraud: 740,000 Straws Across the Sea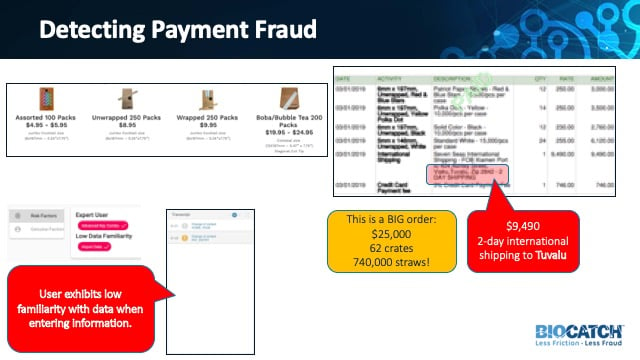 An urgent order was placed for 740,000 straws. The shipment's destination was Tuvalu, a tiny island with a population of 11,000. Two-day international shipping to such a hard-to-reach location was quite expensive, nearly $10,000. After the payment was made, the customer called the straw company and asked that the amount that was paid for shipping be directed to another freight company – for unknown reasons.
What was really going on here? Was the customer planning a large party and worried the straws would not arrive on time?
Unfortunately, no. This was a case of payment fraud. The entire order was illegitimate, and the request to transfer shipping funds was part of the scam. If the transfer was completed, the funds would be sent to a fake company under the fraudster's control. BioCatch, however, analyzed the user's cognitive attributes in how they entered the payment and shipping information – attributes related to computer proficiency and data familiarity. BioCatch was able to determine that stolen and made up information was being used in the checkout process, and blocked the transaction, disrupting the fraud attempt.
According to the latest Overall True Cost of Fraud Study by LexisNexis, overall fraud losses are up 6% from 2017 to 2018. And for each dollar lost to fraud, online merchants can ultimately expect to lose $2.94 in revenue. Learn more about how BioCatch helps with identity proofing and payment fraud here.
#2: Reducing Fraud-Related False Positives: The Frequent Traveler Dilemma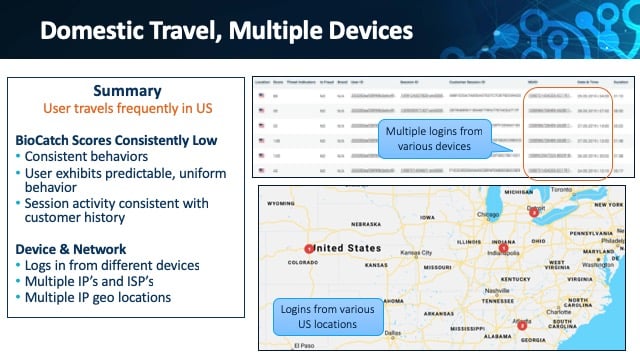 The next case is that of the frequent traveler. Business executives, for example, travel frequently for work throughout the United States. Many logins, from multiple devices and locations, makes it extremely difficult to manage false positives and authenticate a traveler using traditional device and IP measures.
According to a 2017 Javelin report, fraud-related false positives affected roughly 1 in 15 (6.7%) of consumers, a problem that not only continues to grow, but has significant implications for enterprise access management, e-commerce and online banking applications given the need to balance security and convenience.
BioCatch behavioral biometrics technology provides a solution. By analyzing more than 2,000 physical and cognitive behavioral attributes, BioCatch is able to determine that a user is who they claim to be regardless of location and device and provides passive, continuous authentication that limits the need to introduce additional authentication measures that are annoying and hard to maintain.
#3: Ensuring Compliance: Employees Try to Bypass Wire Transfer Dual Controls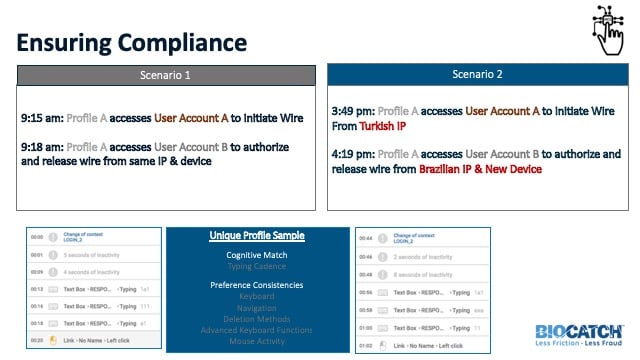 Best practices for wire transfers call for dual controls, where different users create and release the payment. These policies are put in place to ensure compliance and to mitigate fraud. However, people are people, and in the haste to get work done faster and maximize collaboration, they often default to credential sharing.
Despite the well-known dangers, nearly 60 percent of IT decision-makers in the U.S. share access credentials with other employees, according to a study conducted by Centrify. By analyzing user behavior, including cognitive preferences related to navigation, use of shortcuts, mouse activity and typing cadences, BioCatch is able to prevent the bypass of controls and ensure compliance.
Each of these use cases demonstrate the significant advantages behavioral biometrics bring to authentication and the user experience. To learn how BioCatch can deliver ROI for your business, schedule a demo.