As businesses dive deeper into digital initiatives, the need to balance security and usability is more critical than ever. Customers are demanding world-class experiences and have limited patience for complex online interactions and unnecessary friction. At the same time, fraud is on the rise and costlier than ever.
Strengthening digital channels to meet customer demands requires a new perspective, one that emphasizes streamlining the user experience while also providing top security. Behavioral biometrics empowers organizations to achieve this balance. In this blog, we'll take a look at three different case studies that demonstrate the power of AI-driven behavioral biometrics technology and how a successful implementation generates significant ROI for global enterprises and financial institutions.
Three Behavioral Biometrics Case Studies
Case Study 1: Preventing Down-the-Line Fraud Losses: A Promotional Offering Resulting in Mule Accounts and Credit Fraud
A top bank offered high-income applicants immediate approval for a deposit account and credit card in a single application. While this promotion attracted new business, a subset of applicants were criminal and later tied to down-the-line credit fraud losses and the exploitation of mule accounts. While the bank had adopted numerous fraud prevention solutions, they lacked the ability to adequately assess risk at the account opening stage. Although the bank's latest promotion offered differentiated convenience for genuine applicants, they wanted to strike a better balance between convenience and security to ensure they were doing all in their power to safely acquire new customers.
After incorporating behavioral biometrics into their security ecosystem, the bank no longer worried about risk when introducing promotional offerings to drive new business. With continuous visibility into user behavior throughout the entire account opening process, the bank was able to introduce different user experiences based on risk level. Applicants who exhibited high-risk behavior patterns associated with cybercriminal activity were instructed to visit the bank's branch to complete their application, while low-risk applicants whose activity was similar to legitimate user patterns, were automatically approved. This method saved the bank hundreds of thousands of dollars immediately as they were able to automatically decline potentially fraudulent activity and reduce down-the-line fraud losses.
Case Study 2: Immediate ROI: Going Beyond Authentication and Device Reputation
A major credit card issuer's existing fraud detection model was based on traditional means of verifying identity including device reputation, yet they suffered from millions of dollars in fraud losses each year. The issuer was eager to invest in a fraud solution that would reduce their current fraud losses and improve customer experience.
Business executives, for example, travel frequently for work throughout the United States and login from multiple devices and locations. When financial institutions and other organizations leverage traditional device or IP security controls, users are burdened with a high-friction experience and fraud teams are forced to manage a large number of benign fraud cases.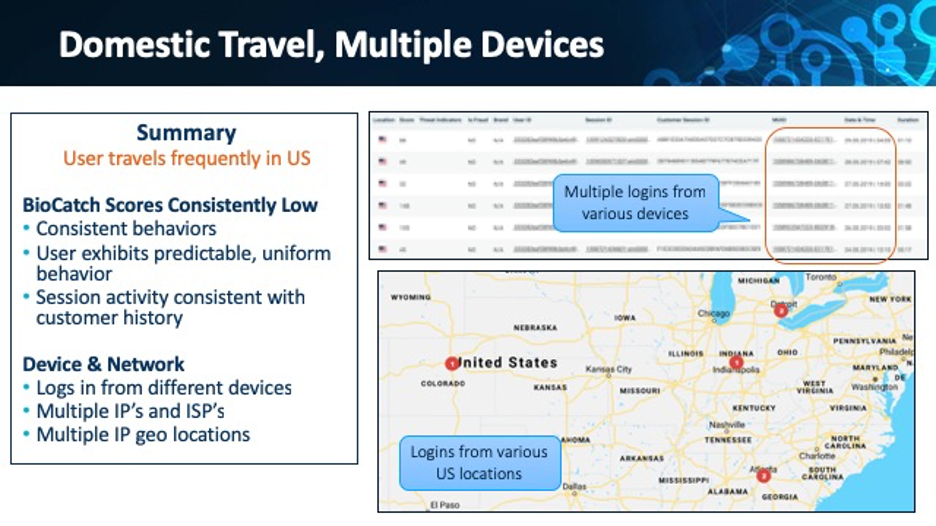 According to Javelin research, fraud-related false positives affect roughly 1 in 15 consumers, a problem that not only continues to grow, but has significant implications for enterprise access management, e-commerce, and online banking experiences given the need to balance security and customer experience. According to recent Gartner research, digital businesses with a smooth customer journey during identity corroboration will earn 15% more revenue than comparable businesses with an unnecessarily frictional customer journey. With this knowledge, it's time to get serious about digital identity and fraud.
By leveraging behavioral biometrics to analyze thousands of physical and cognitive behavioral attributes, the credit issuer was able to detect fraud and identity theft regardless of the user's location or device. By incorporating behavioral insights into their risk analysis process, the issuer realized immediate ROI by gaining millions of dollars in annual uplift from reduced fraud losses, decreased operational costs, and increased customer acquisition.
Case Study 3: Detecting Payment Fraud: 740,000 Straws Across the Sea
An e-commerce business received an urgent order for 740,000 straws to be delivered to Tuvalu, a tiny island with a population of 11,000. The user selected two-day international shipping. To such a remote location, this was quite expensive, adding up to nearly $10,000. After the payment was made, the customer called the straw company and asked that the shipping amount be directed to another freight company.
What was really going on here?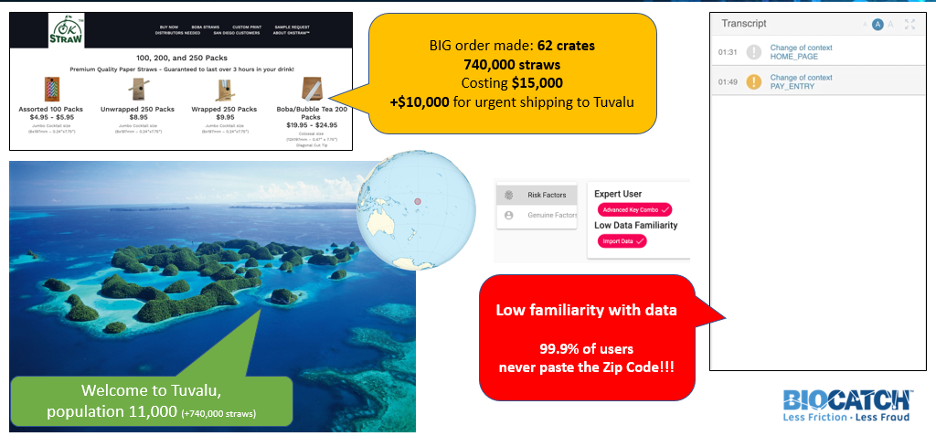 This was a case of payment fraud. The entire order was illegitimate, and the request to transfer shipping funds was part of the scam. In the event the money transfer was successful, the shipping funds would have been sent to a fake company under the cybercriminal's control. By employing behavioral biometrics to analyze the user's cognitive attributes, including the user's level of data familiarity and computer proficiency, the organization was able to determine that the user was inputting stolen and synthetic information in the checkout process and blocked the transaction up front.
Each of these behavioral biometrics case studies demonstrates the significant advantages possible to reduce friction and fight fraud. To learn how BioCatch can deliver ROI for your business, schedule a demo today or read more of our customer case studies.