Social Engineering Scam Detection
Don't Let Criminals Call The Shots
BioCatch analyzes user behavior in real-time to detect when an individual is conducting a transaction under the influence of a cybercriminal, helping banks to protect customers from social engineering scams and authorized push payment fraud.
Social Engineering Fraud In Numbers
£479M
Total losses attributed to authorized push payment fraud in 2020 in the UK
57%
Percent increase in social engineering scams in 2021
77%
Percent of fraud complaints involving contacts by telephone, of which social engineering is a subset
75%
Percent of social engineering scams that originate in the mobile channel
Understanding
Social Engineering
Voice Scams
Social engineering scams using the phone, also known as voice scams or APP fraud, are one of the most complicated attack types to detect and are a prevalent form of account takeover fraud.
Voice scams are very simple to execute, but difficult to detect. The user is on their own device, present in a recognized location, and able to pass all forms of multi factor authentication if needed. So how can you detect a voice scam in progress?
Anatomy of a Social Engineering Voice Scam


Spot The Impostor: Tackling The Rise In Social Engineering Scams
Social engineering scams are on the rise worldwide. According to the U.S. Federal Trade Commission, impostor scams were the number one type of fraud reported by consumers last year. Despite advancements in authentication and fraud prevention technology, most legacy controls are still failing to detect these scams. Explore what is behind the recent outbreak of social engineering scams around the globe, how government and industry are responding, and how behavioral biometrics can help protect consumers from falling victim to these attacks.


DOWNLOAD WHITE PAPER
Stop Scammers in Real-Time. Protect Customers.
BioCatch provides financial institutions with immediate behavioral insights that indicate a social engineering scam is in progress, helping to prevent significant losses and better protect their clients and assets.
Here are four ways behavioral biometrics can uncover a real-time social engineering scam:
Length of session
Sessions are longer and behaviors such as aimless mouse movements are common indicating a person is waiting for instructions.

Segmented typing
These patterns indicate dictation such as a cybercriminal reading off an account number to transfer funds to.

Hesitation
Longer pauses before performing simple, intuitive actions such as clicking on the Submit button.

Displacement
Continuous movement of the phone suggests the user is picking the phone up to take instructions and placing it back down to perform the actions instructed by the cybercriminal.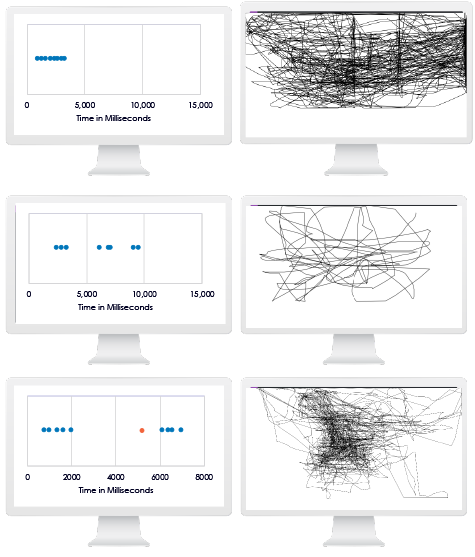 Can You Spot the Scam?
The challenge with detecting many social engineering scams is that the cybercriminal does not interact directly with the banking platform and instead convinces the victim to execute a payment. Traditional device, IP and location-based authentication controls will thus appear genuine. Even in high-risk cases where step-up authentication is required, such as out-of-band SMS OTP, the challenge will be passed because a legitimate user is performing the transaction. Behavioral biometrics looks for subtle changes in more than 2,000 digital behavior patterns that build a picture of a user's emotions or intention during a session and suggest a social engineering scam may be at play.