New Account Fraud In Numbers
$3.5
Billion
Total losses projected from application fraud in the U.S. in 2021
$3,000
Average loss per incident from credit card application fraud
85%
Percent of financial institutions that experience fraud in the account opening process
$10K
Average loss per incident from synthetic identity fraud
How Can You Trust a New Customer You Have Never Seen Before?
Through innovative research, a decade of data, and proven results, BioCatch risk models analyze a user's physical and cognitive digital behavior to distinguish between genuine users and criminals in order to detect fraud and identity theft and to improve customer experience. By profiling user behaviors such as mouse movements, typing cadence, swipe patterns or device orientation, the BioCatch platform, powered by machine learning, identifies statistically observed norms for "good" and "bad" behavior.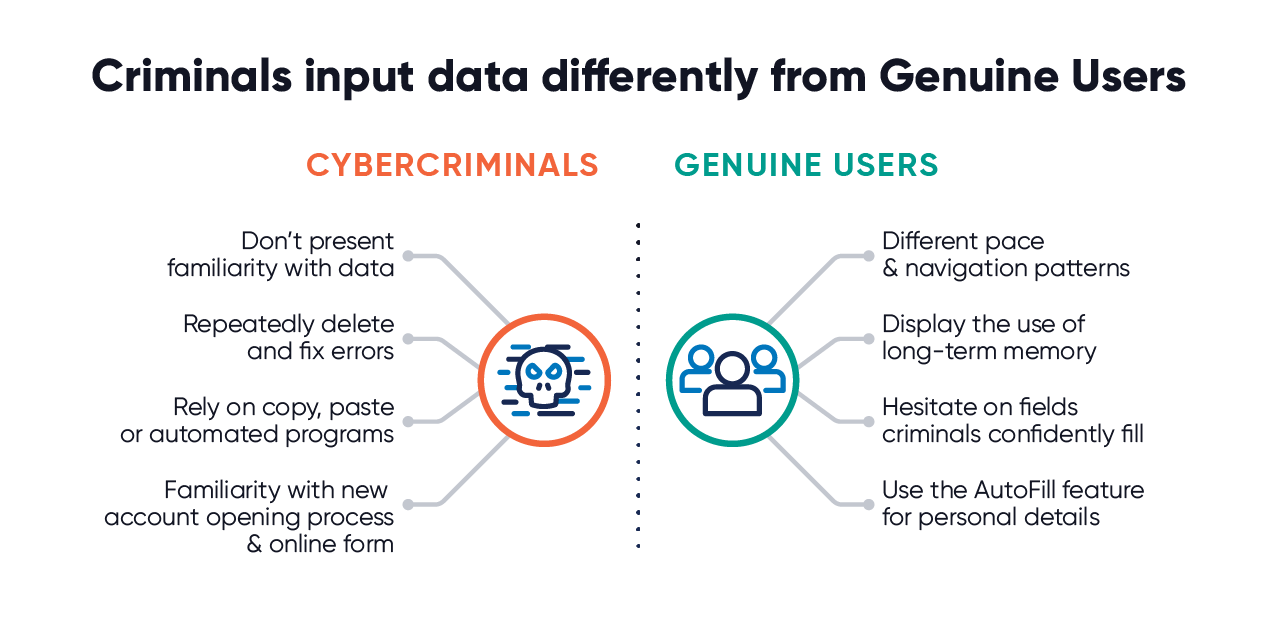 Behavior Tells All in a Digital World
During account opening, typing speed, swipe patterns, and every click of the mouse tells a story – one of cybercriminal activity or genuine user behavior. BioCatch pulls together advanced behavioral insights to empower organizations with increased visibility into risk. Even when you have never seen a user before, BioCatch quickly spots trusted behaviors to create a smooth customer journey during account opening.
BioCatch Delivers Account Opening Protection to Help Your Organization:
Only BioCatch delivers insights on:
Application Fluency
How familiar is the user with the account application process?

Expert User Patterns
Does the user display advanced computer skills compared to the general population?

Low Data Familiarity
How familiar is the user with personal data?

Age Analysis
Do the human-device interactions align with the common behavior patterns associated with users of a certain age group?