Account Opening Fraud Protection
CUANDO LOS CLIENTES NUEVOS
EN REALIDAD NO LO SON
La protección para la apertura de cuentas de BioCatch ofrece una visión avanzada de los comportamientos para que usted pueda ver en tiempo real y de forma continua lo que necesita para detectar más fraudes, disminuir las fricciones y captar más clientes.
New Account Fraud In Numbers
$2.1
Billion
Total losses from credit card application fraud projected in the U.S. in 2020
$3,000
Average loss per incident from credit card application fraud
85%
Percent of financial institutions that experience fraud in the account opening process
$10,000
Average loss per incident from synthetic identity fraud
How Can You Trust a New Customer You Have Never Seen Before?
Through innovative research, a decade of data, and proven results, BioCatch risk models analyze a user's physical and cognitive digital behavior to distinguish between genuine users and criminals in order to detect fraud and identity theft and to improve customer experience. By profiling user behaviors such as mouse movements, typing cadence, swipe patterns or device orientation, the BioCatch platform, powered by machine learning, identifies statistically observed norms for "good" and "bad" behavior.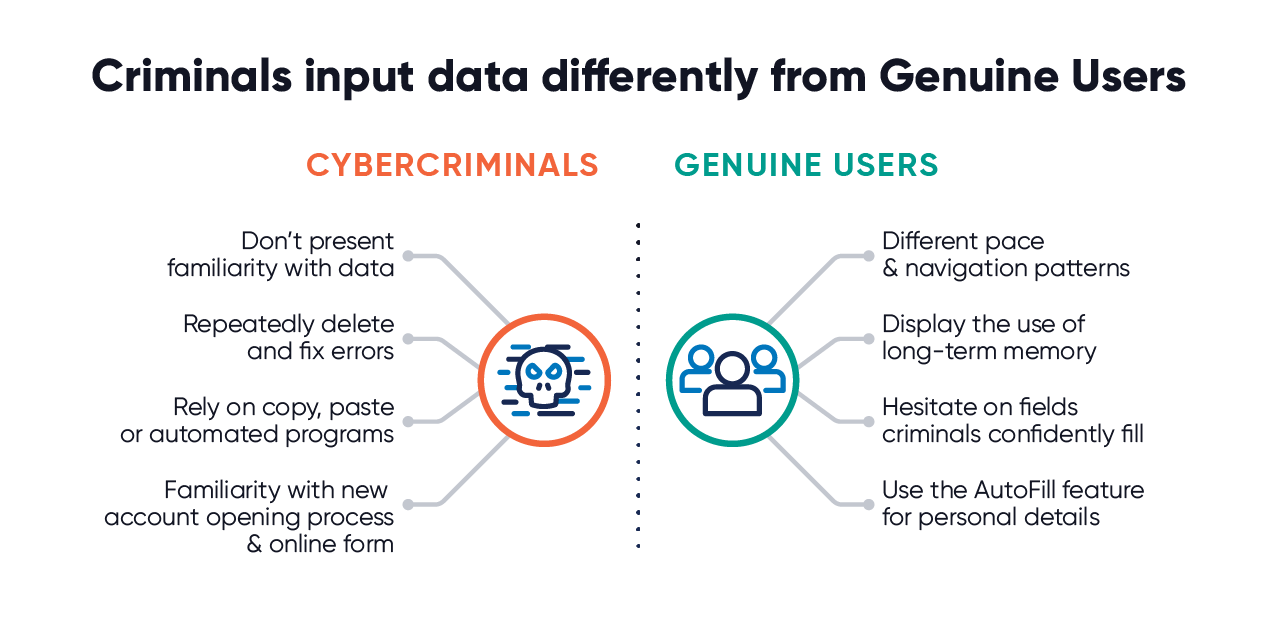 Understanding Social Engineering Voice Scams
Social engineering scams using the phone, also known as voice scams or APP fraud, are one of the most complicated attack types to detect and are a prevalent form of account takeover fraud.
BioCatch Delivers Account Opening Protection to Help Your Organization:
Only BioCatch delivers insights on:
Application Fluency:

How familiar is the user with the account application process?

Expert User Patterns:

Does the user display advanced computer skills compared to the general population?

Low Data Familiarity:

How familiar is the user with personal data?

Age Analysis

Does the human-device interactions align with the common behavior patterns associated with users of a certain age group?