Top 5 Canadian Bank Stops Bad Applicants and Realizes Over $8 Million in Fraud and Operational Savings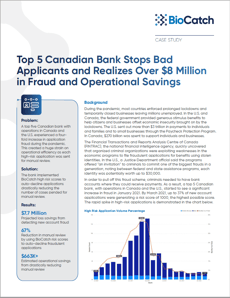 Criminals attempting to cash in on government stimulus programs during the pandemic needed accounts to receive the payments. A top five Canadian bank with operations in Canada and the U.S. experienced a fourfold increase in application fraud during this time. This created a huge strain on operational efficiency as each high-risk application had to be sent for manual review.
Find out how the bank implemented BioCatch high risk scores to auto-decline applications resulting in huge fraud and operational cost savings.