How A Large Bank Saved Nearly $2 Million Per Month and Transformed Fraud Protection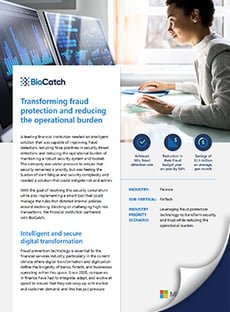 Fraud prevention technology is essential to the financial services industry where digital transformation and digitization have come to define the longevity of banks, fintech, and businesses operating within this space.
One large financial institution, in search for a new fraud prevention solution, had non-negotiable criteria. They required a solution that provided high fraud detection with minimal friction and used advanced algorithms based on machine learning, capable of evolving alongside the business and its customers. Following the deployment of behavioral biometrics, the financial institution achieved greater than expected results, including up to 98% fraud detection rates and loss and operational savings of nearly $2 million per month.