How a Top Challenger Bank Prevented Over $1 Million in New Account Fraud and Increased Customer Acquisition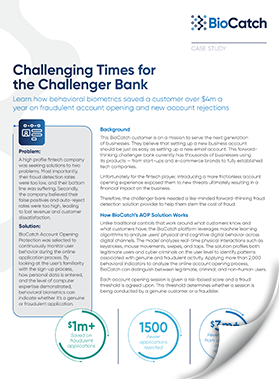 Opening a bank account should be just as easy as creating a new email account. It is for this reason that challenger banks are thriving and reshaping what banking means in order to serve the next generation of businesses and consumers. However, transforming the user experience and the ease of doing business often introduces unintended fraud risks.
The bank required a solution that could help boost fraud detection rates in the account opening process while minimizing false positives and auto-rejects for legitimate applications. Find out how behavioral biometrics helped the challenger bank improve fraud detection rates, prevent more than $1 million in new account fraud, and protect revenue from unnecessary account rejections.