Addressing the Reserve Bank of India Requirements for Digital Payment Fraud and Money Mule Prevention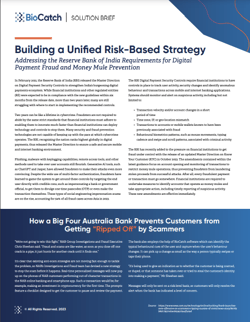 In February 2021, the Reserve Bank of India (RBI) released the Master Direction on Digital Payment Security Controls to strengthen India's burgeoning digital payments ecosystem. While financial institutions and other regulated entities (RE) were expected to be in compliance with the new guidelines within six months from the release date, more than two years later, many are still struggling with where to start in implementing the recommended controls.
The pressure on financial institutions to get fraud under control was intensified with the release of an updated Master Direction on Know Your Customer (KYC) in October 2023. The amendments contained within the latest guidance focus on account opening and monitoring of transactions to restrict money mule operations, thus preventing fraudsters from laundering stolen proceeds from successful attacks.
Find out how BioCatch Connect integrates behavioral and device intelligence to enable financial institutions to address the complex problem of fraud management and money laundering within a single platform.