Discover the Latest Trends in APAC's Digital Banking Fraud Landscape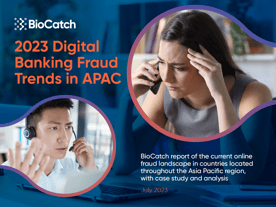 Welcome to the frontlines of financial security. BioCatch, a global leader in behavioral biometrics, is delighted to bring you an illuminating report on digital banking fraud trends in the Asia-Pacific region. This essential read reveals the harsh reality of cybercrimes plaguing the financial industry today.
Inside the report, you'll uncover:
The Unsettling Rise of Call Center Gangs and Human Trafficking: Learn about the escalating menace of call center scams intertwined with human trafficking--a dark link amplifying the threat to people and businesses across APAC.
The Dominance of Scams in APAC's Cybercrime Landscape: Our report reveals that scams now account for 54% of cybercrime cases in the APAC region
A Shift in Cybercriminal Strategies: As financial institutions in Australia adopt BioCatch's cutting-edge behavioral biometrics solutions to counter Remote Access Trojans (RAT), fraudsters are adapting with a pivot towards complex social engineering scams. Learn how to defend against them in this report.
The Heightened Vulnerability of Older Populations: Echoing our EMEA findings, this report shows that the victims of investment scams in the APAC region are predominantly older than the general population. Our report equips you with insights to better protect this at-risk demographic.
The Link Between Remote Access and Investment Scams: A distressing 51% of investment scam victims were formerly ensnared by remote access scams. Dive into our analysis of this disturbing trend to shield your clients and bolster your fraud defenses.
Download this report to gain insight into the rapidly changing threat landscape in the APAC region, and arm your business with the knowledge and solutions to anticipate and counter fraudsters.