2023 Digital Banking Fraud Trends in EMEA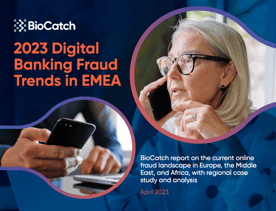 In EMEA, cybercriminals continue to capitalize on consumer desperation and target vulnerable victims with scams, which represent 52% of all reported fraud in the region.
Remote access fraud also continues to rise, with cybercriminals using remote access trojans (RAT) not only to execute fraud from victims' devices but to observe their victims with the intent of committing social engineering attacks.
Access this report of aggregated BioCatch data from financial institutions across EMEA to read insights collected by the BioCatch global advisory board and threat analysts, as well as an analysis of remote access fraud.