Application Fraud: Solving the Ongoing Identity Crisis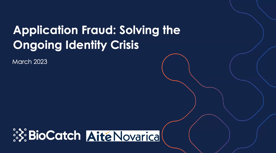 Losses from application fraud are projected to hit nearly $5 billion by 2024, an alarming number that signals identity controls remain fundamentally broken. As financial institutions struggle to address this pain point – from identity theft and synthetics to mule accounts – the good news is that technology has progressed to enable better detection and better customer experiences.

Download this on-demand webinar and hear from guest speaker, Shirley Inscoe, Strategic Advisor in Aite-Novarica Group's Fraud & AML practice, about the impact of application fraud across channels, the strengths and vulnerabilities of existing fraud controls, and what can be done to catch more bad applicants.