INTRODUCTION
Returning to the Leadenhall Building in London after a year. We eagerly awaited the arrival of our esteemed guests and customers. Similar to the previous year, the weather was glorious, and the breathtaking views from the 42nd floor added to the ambience. While last year's event was a resounding success, we acknowledge the potential to enhance its value even further for our attendees, so we had a slightly different agenda from last year. Below is an overview of the events that transpired on May 11th 2023.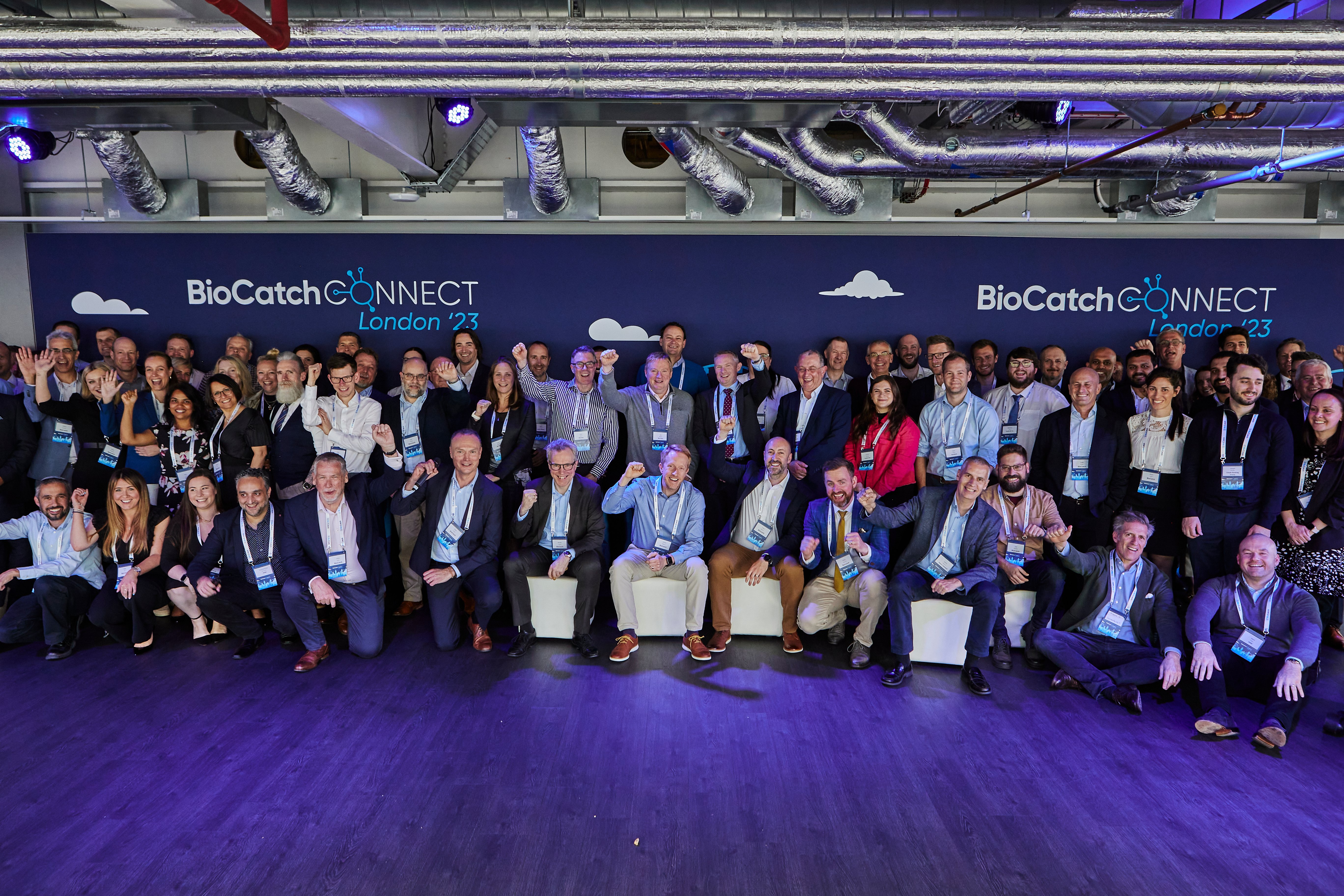 CEO KICK-OFF

Just like the previous year, our CEO Gadi initiated the day by sharing his thoughts on 2023 and 2024. Among the various significant topics he covered, three stood out as particularly impactful:

1/ Our company's continuous and rapid expansion, largely attributable to the strong partnerships we have forged with our customers.

2/ The ever-changing landscape of scams, with a specific focus on how fraudsters are increasingly targeting actual customers.

3/ Gadi emphasized the importance of establishing a comprehensive scam detection network and shifting our mindset from a defensive approach to an offensive one. And how we have the opportunity, capability, and duty to make that happen.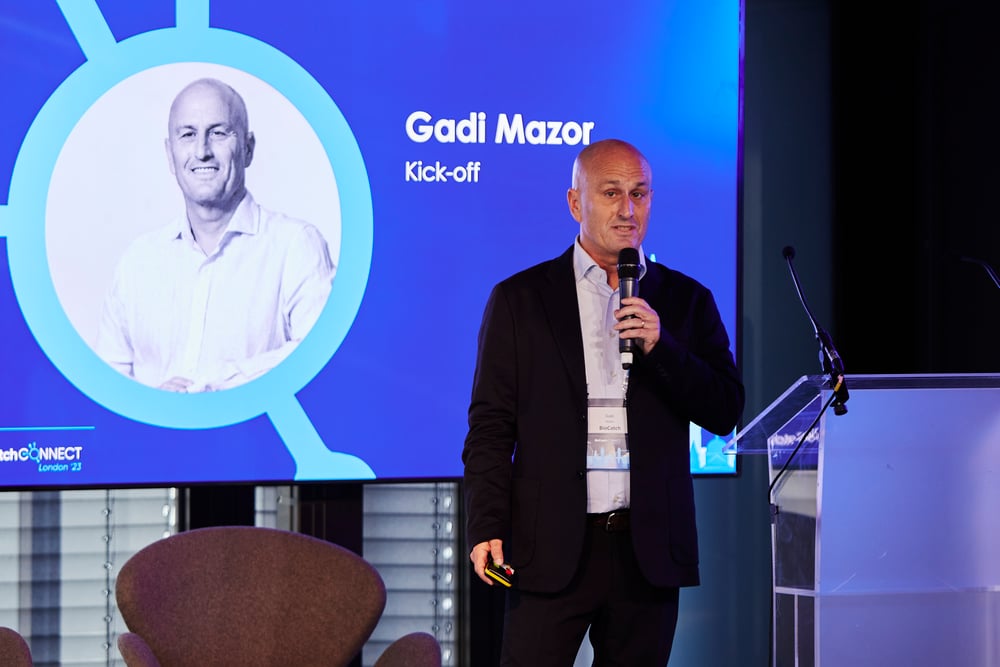 ---
THREAT VISION PART 1: FRAUD LANDSCAPES AND INSIGHTS FROM THE FIELD
Following Gadi's presentation, Gemma Staite, Threat Analytics Team Lead and her team assumed the spotlight. The team began by emphasising the robustness and significance of our data. Taking a panoramic view of our customers' data over the past year, they unveiled the dynamic landscape of fraud, providing the audience with an overview of the evolving areas of concern. It comes as no surprise that scams accounted for over 50% of the fraud instances. The Team finished off by providing some specific insights on scams and the growing problem of mule accounts.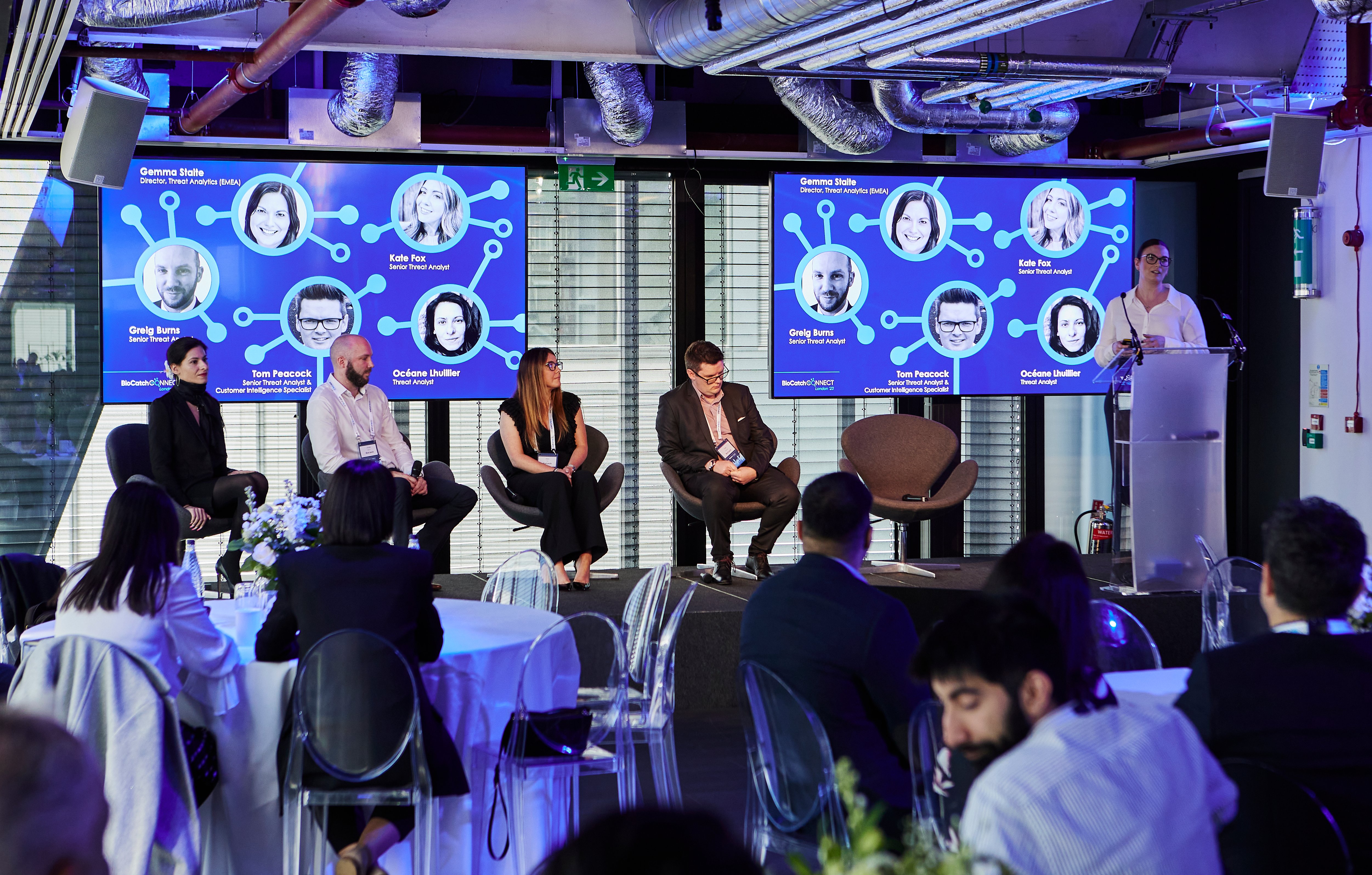 ---
THREAT VISION PART 2: WHAT TO EXPECT IN 2023

Following the TAs, Iain Swaine and Wiebe Fokma from the Global Advisory Team took centre stage for a 30-minute presentation. Iain commenced by revisiting the topics discussed in the previous year and provided a retrospective analysis of accurate and erroneous forecasts. They then transitioned into forecasting the year, delving into several pressing issues. Both Iain and Wiebe covered a wide range of topical subjects, including the expected industrialization of scams, our tendency to overestimate our ability to identify scams, the exploitation of online chat channels, and the alarming and rapid growth of AI and its implications for fraud in the year ahead.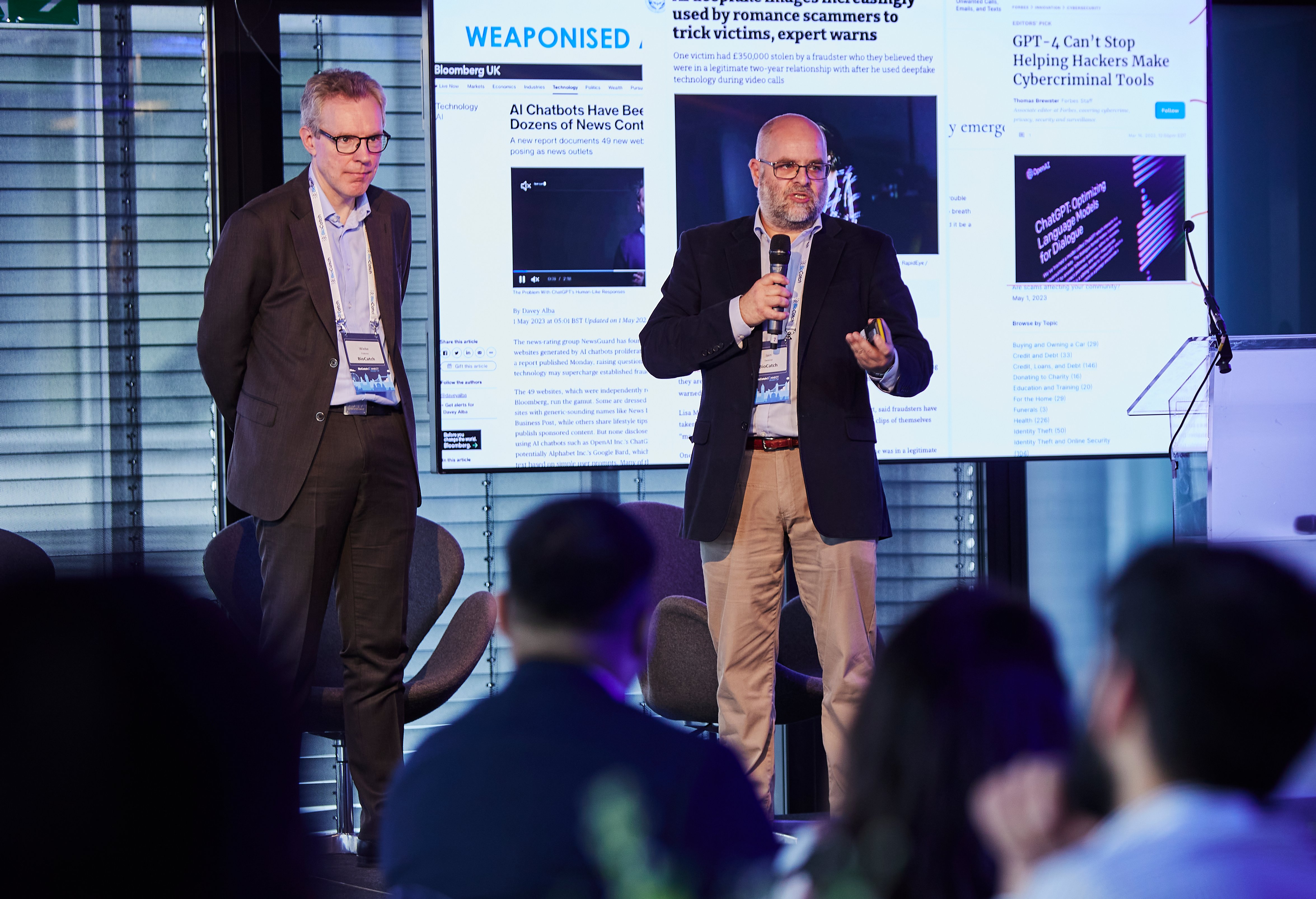 ---
MORNING PANEL DISCUSSION CUSTOMER SUCCESS STORIES

After a 15-minute morning networking break, the day progressed with an engaging panel discussion, expertly moderated by Gadi. The esteemed panellists represented HSBC, TSB and Barclays, and the central theme revolved around sharing success stories and collaborating to combat fraud. The objective was to provide neighbouring banks and peers with the opportunity to adopt these success stories as examples to emulate.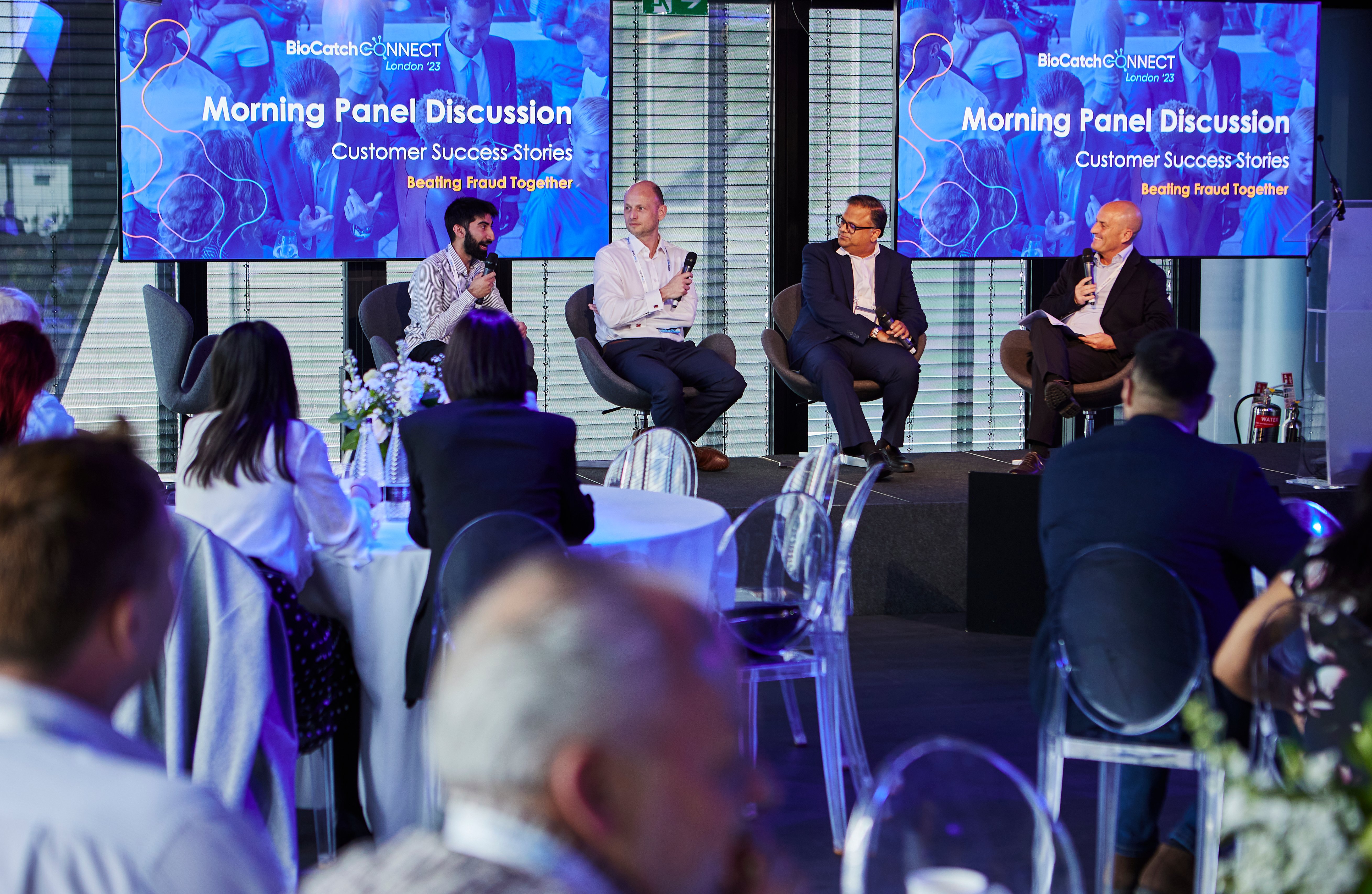 One intriguing aspect of the discussion was the examination of the fraudster's ingenuity. By gaining insights into the criminal mindset, we can proactively stay one step ahead and devise strategies to mitigate future types of attacks. Additionally, the panel delved into the challenge posed by our inherent vulnerability to scams, presenting a significant obstacle for banks to overcome.
---
GUEST SPEAKER: AYLEEN CHARLOTTE
This year, Ayleen was the sole external speaker at the event, invited to share her compelling story. Ayleen gained recognition through her appearance in a widely acclaimed Netflix documentary, "The Tinder Swindler." She belonged to a small group of individuals who unfortunately fell prey to a fraudster by the name of Simon. Unlike some other unfortunate victims, Ayleen managed to navigate her way out of the scam before it turned her life upside-down. Her personal experience has fuelled her deep motivation to enlighten others and urge retail banks to implement more proactive measures to prevent similar incidents from occurring. Ayleen's session proved to be a highlight of the day, captivating the audience, and prompting numerous questions, especially regarding how to break free from the grip that fraud victims often find themselves trapped in.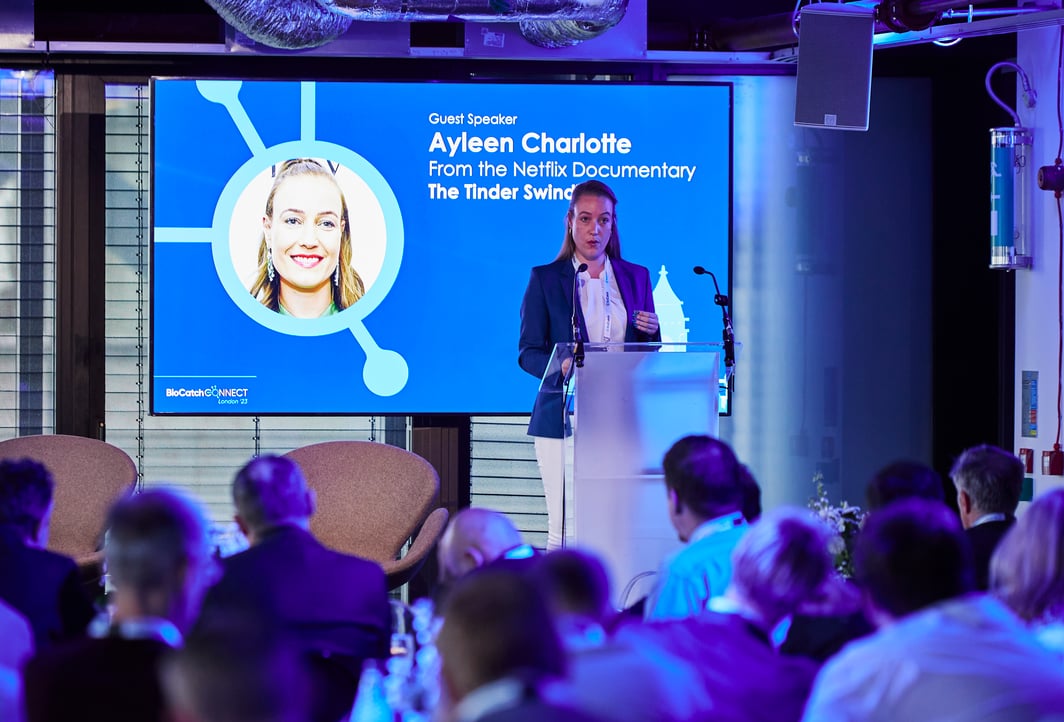 ---
PRODUCT ROADMAP UPDATE
Following a lunch break, it was Ayelet Eliezer's turn to take the stage. Ayelet, our Senior VP of Product, commenced by outlining the key themes that have guided our product roadmap, placing them in priority order. This approach with this forum helps guarantee that our customers can rest assured that our focus areas align with the current and future requirements of the ever-evolving fraud market. Ayelet proceeded to discuss notable advancements in our existing solutions, highlighting their significant evolutions. Additionally, she unveiled some exciting new projects her team is currently working on and reiterated what Gadi mentioned at the start of the day – the importance of working together to build a comprehensive scam detection network.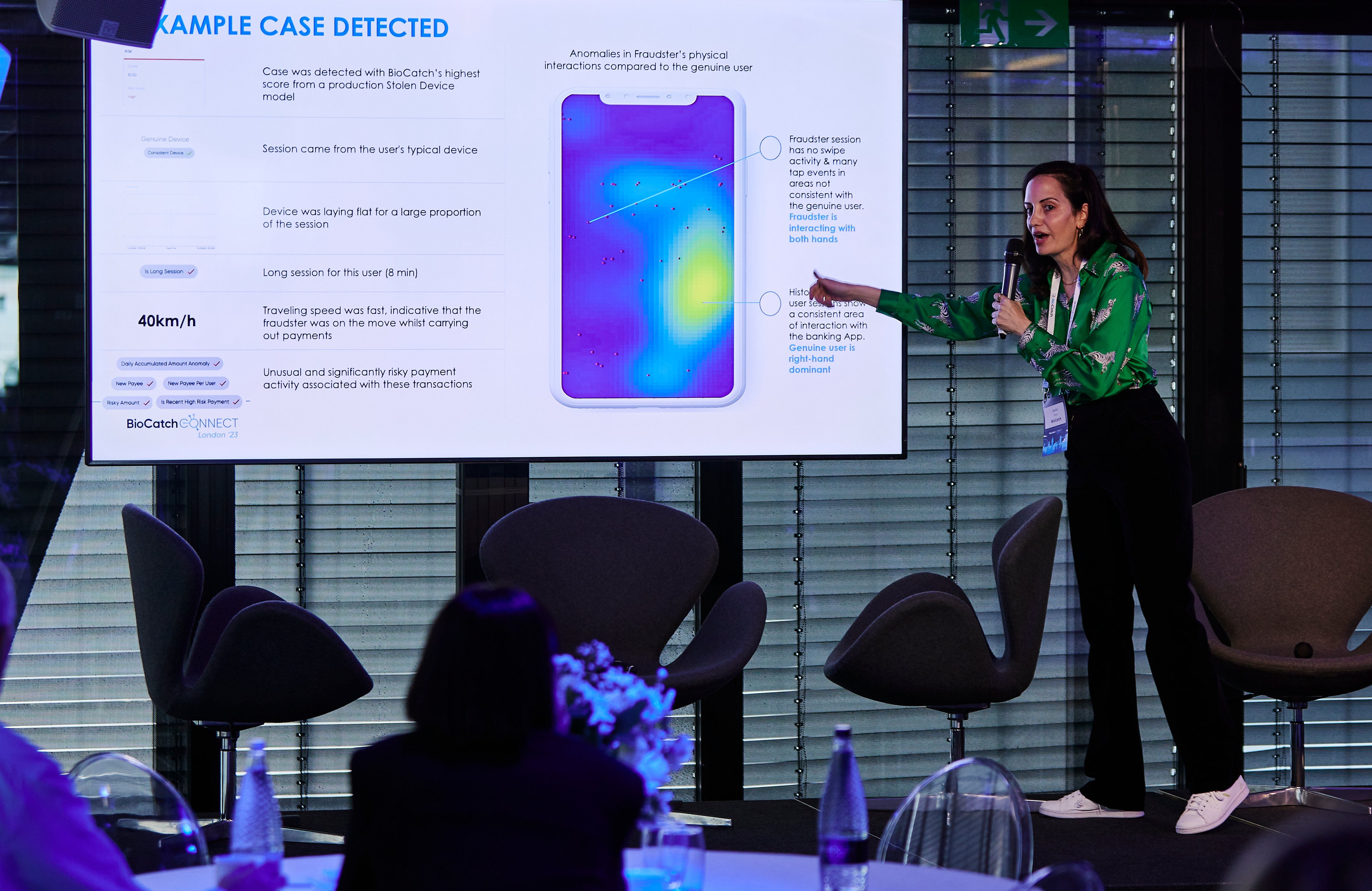 ---
PRODUCT INNOVATION: BEATING SCAMS AND MULES TOGETHER IN 2023
One of the most enlightening sessions of the day revolved around BioCatch's vision for assisting our customers in safeguarding their own customers in 2023. Kevin Donovan, our VP of New Products and Benny Ankri, our Senior Product Manager are the driving force behind our Mules and AML offering and therefore presented on the topic for 30 minutes. They provided the audience with a comprehensive overview of how our solution works and why it is built for success VS competitor solutions. Additionally, they unveiled a top-secret development project, set to be launched in 2023, which promises to be a game-changer in the fraud detection market. No further details can be shared on this unless you are part of the BioCatch Fraud-Fighting family!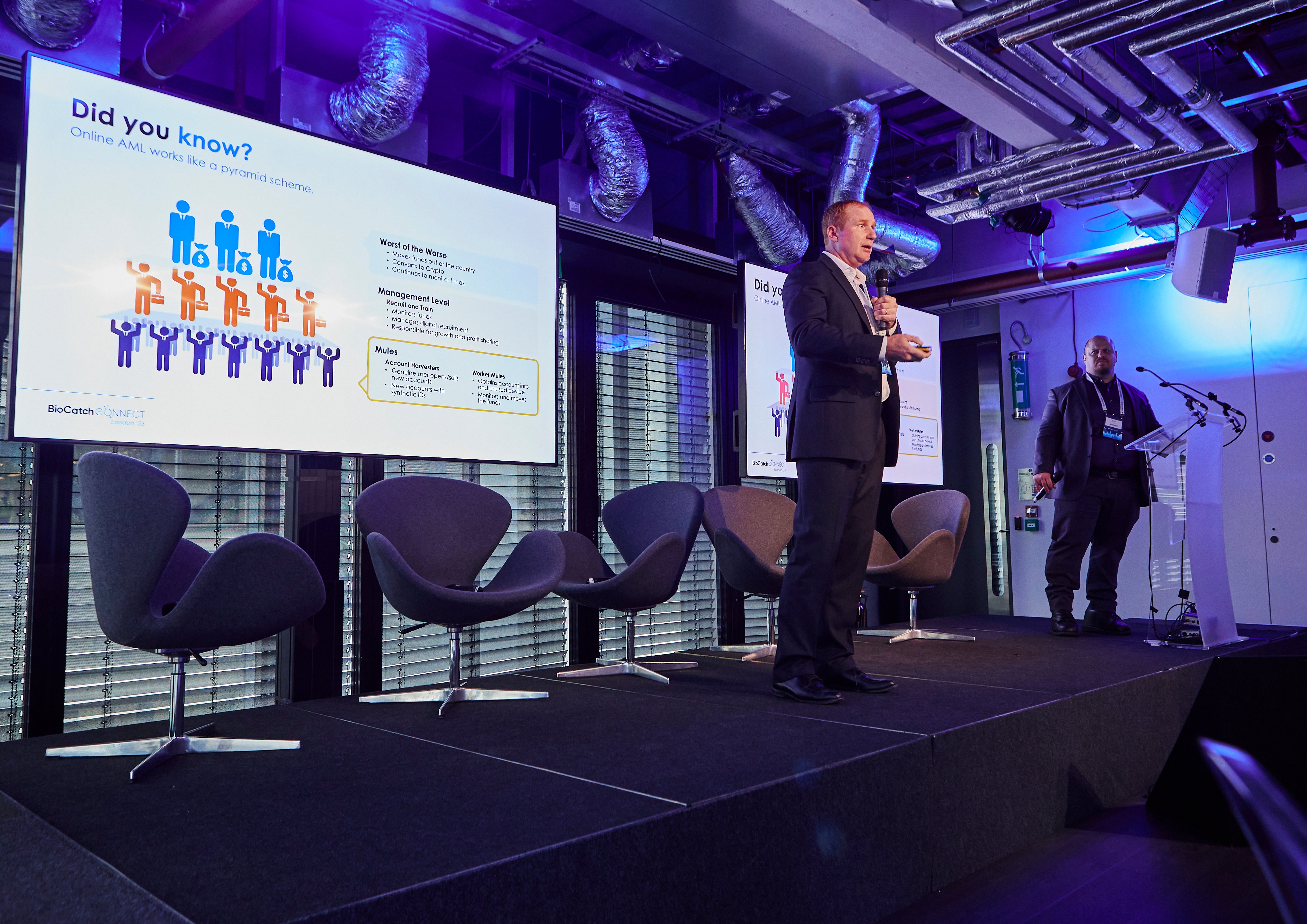 ---
AFTERNOON PANEL DISCUSSION
Taking on the role of panel host in the afternoon, I had the privilege of moderating the engaging afternoon discussion. The second panel of the day featured guest speakers including Jonathan Williams from the PSR, Christine Farrow representing UK Finance, Jonathan Frost from STOP Scams, and Iain Swaine from BioCatch. This diverse lineup was thoughtfully curated to stimulate a robust conversation on the pressing topic of APP scam reimbursement. It provided an opportunity for Jonathan Williams to share crucial updates while allowing Christina to provide insights from the banking industry's perspective on the proposed regulation. Throughout the debate, Jonathan Frost contributed a balanced perspective, emphasizing that scams are a cross-sector problem and the importance of encouraging equal amounts of energy in fighting scams in other sectors as well.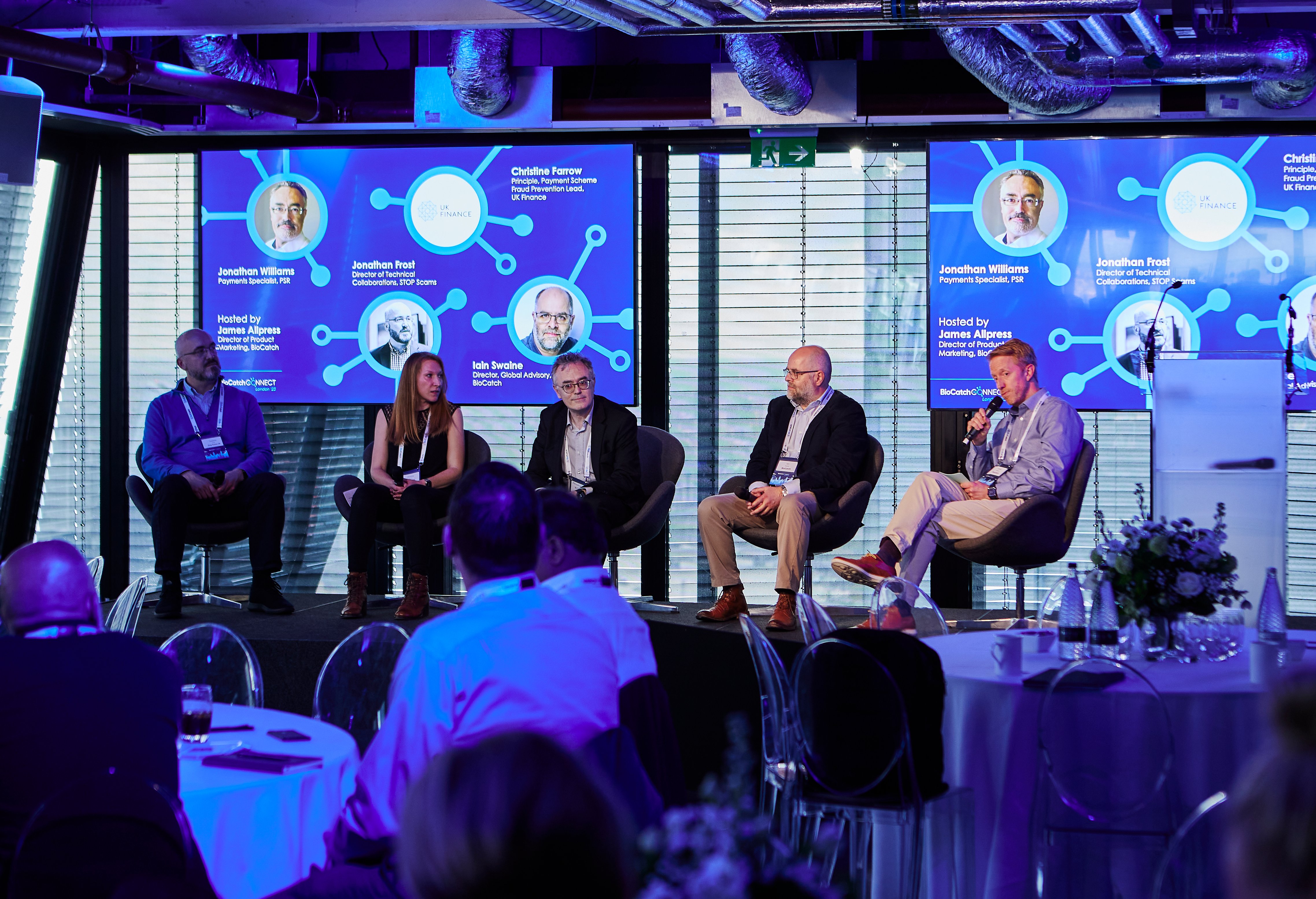 ---
A GREAT DAY HAD BY ALL
Throughout the day, we covered a wide range of topics, and our customers absorbed a wealth of information. In appreciation of their valuable time, energy, and enthusiasm, we concluded the day on a delightful note. To express our gratitude, we organised a brief and enjoyable competition, followed by a reception featuring refreshing drinks and delectable canapes. Additionally, we provided some much-needed light entertainment with a captivating performance by Troy the Magician.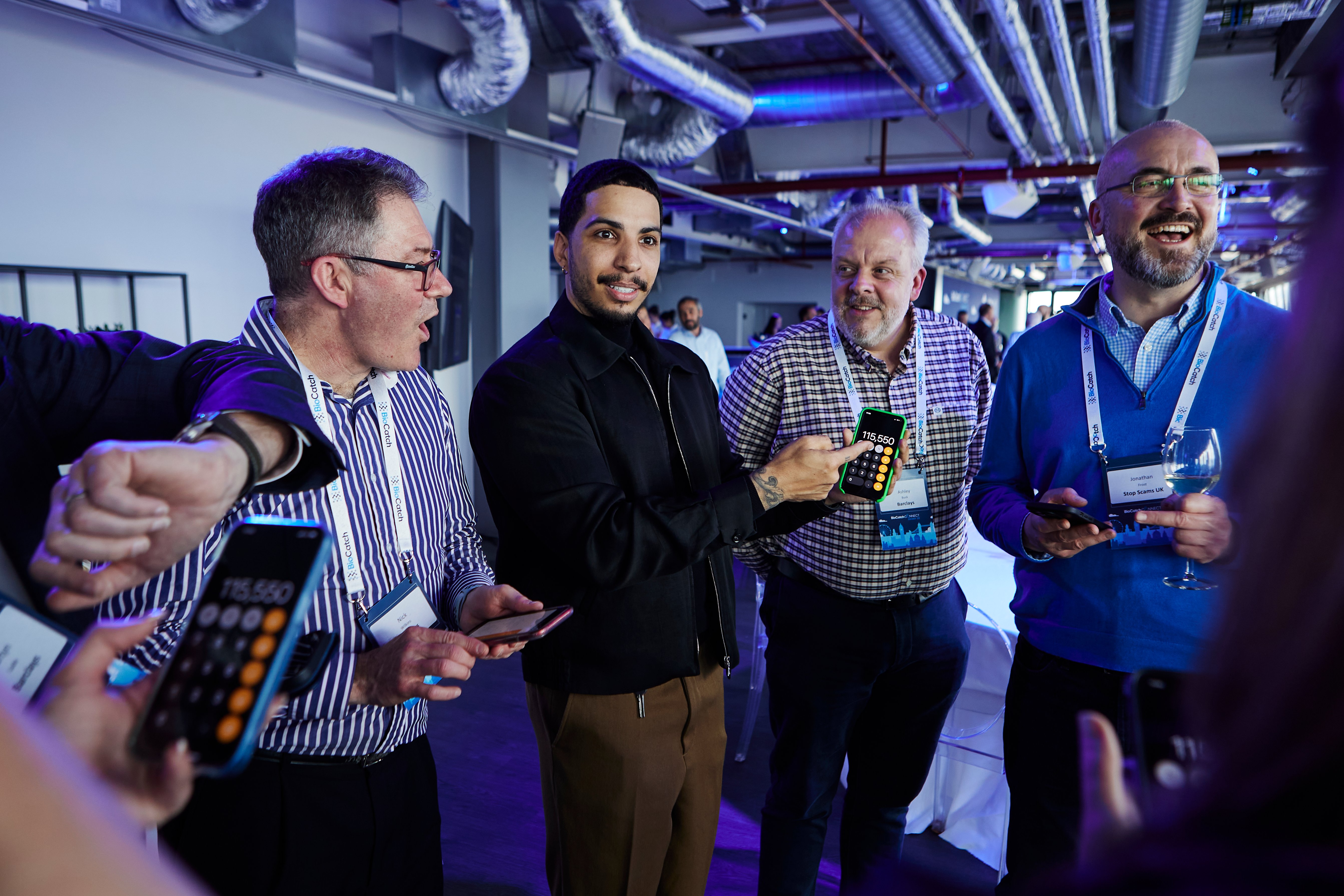 Similar to the success of last year. May 11th 2023 at the Leadenhall Building surpassed all expectations. At BioCatch, our customers are at the core of everything we do, and we were truly humbled by the large number of enthusiastic individuals who graced us with their presence. Their energy and support further fuel our motivation to relentlessly strive forward, pushing the boundaries and taking a stand against the ever-evolving realm of fraud and scams. I speak for many of my colleagues when I say we look forward to next year's event already.
See the highlight video of our 2023 event here: