On 14 June 2023, we gathered in Brazil to welcome customers and partners for our first BioCatch Connect event in the country. BioCatch Connect São Paulo aimed to bring together leaders in the fraud prevention community across Latin America to exchange knowledge, foster innovation, and learn about new trends and how to collaborate in the mission to prevent fraud.
The content was very rich, and for those who could not attend, we have prepared a summary of the key highlights from the event:
CEO Keynote: The Future of Fraud & AML - What's Happening and What's to Come
BioCatch CEO, Gadi Mazor, who was in the region for the first time, started the event with a welcome and contextualizing the company's commitment to Latin America and Brazil. In his presentation, Gadi shared:
The continued rapid expansion of the company, particularly in Latin America, largely attributable to the strong partnerships we have established with our clients.
The ever-changing fraud landscape, with a specific focus on how fraudsters are more creatively targeting banking customers.
The importance of building a strong and comprehensive fraud detection network and shifting our mindset from a defensive to an offensive approach. Gadi reinforced the opportunity, capacity, and duty to make this happen.
Fraud Trends in Brazil and Latin America
Following this presentation, Diego Baldin, Solutions Engineer for Latin America, introduced us to the world of fraud from the perspective of the fraudster. The audience was struck by the ease with which fraudsters obtain data and share it on open channels, trading data, orange accounts and fake identities. Scams can range from completely homemade models to more robust, elaborate cases, even including the use of artificial intelligence, such as 'deep fake', to circumvent facial biometrics systems in onboarding or bank account confirmation processes. We already know about Brazilian creativity, but the cases presented were worrying, and of course, need special attention.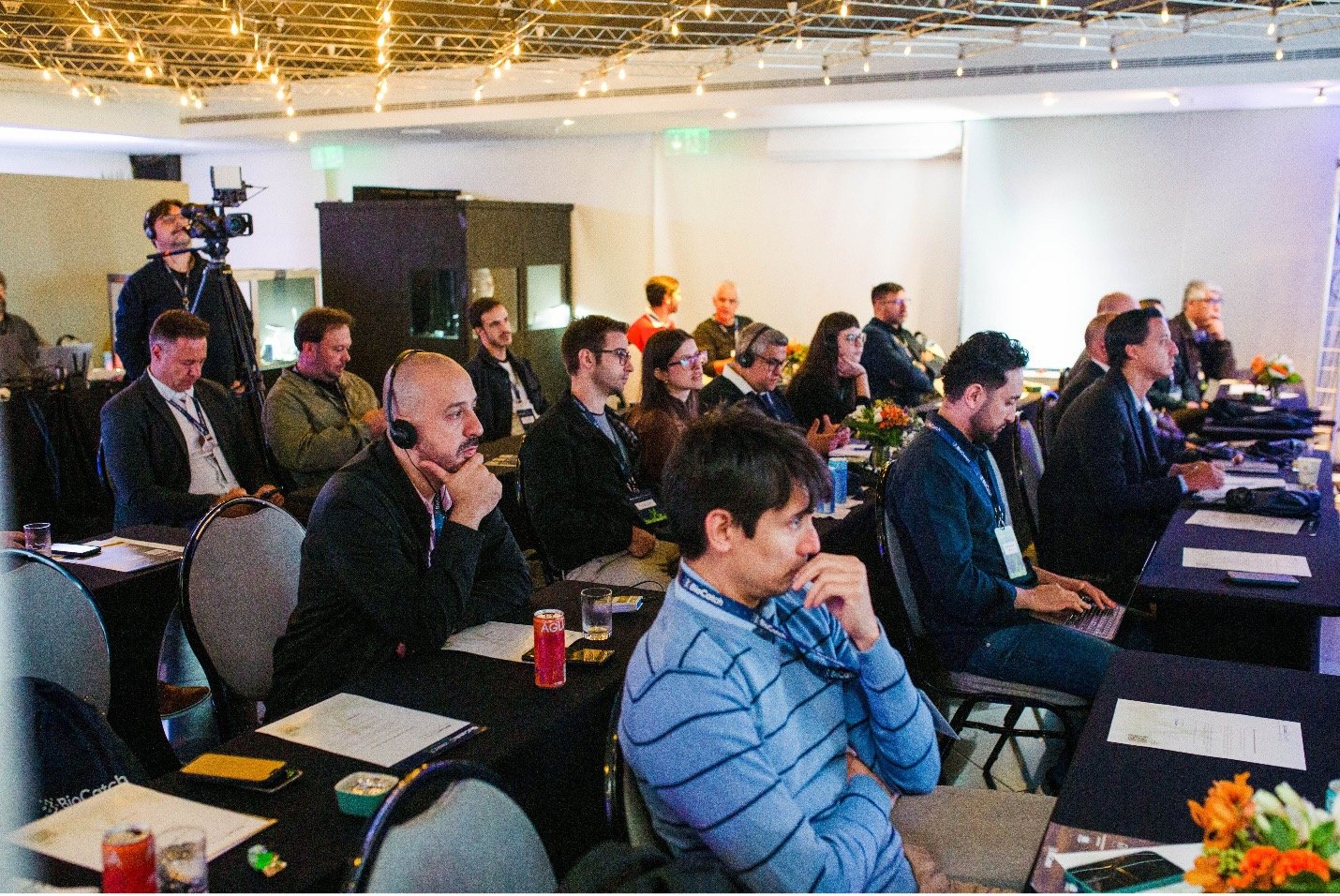 Attendees listen intently as the latest fraud trends across the region are shared.
Catch the Mule Before They Rule
Raj Dasgupta, Global Advisor for BioCatch, followed by presenting an in-depth view of the mule account activity, known as "orange accounts" in Brazil. It was very interesting to observe the journey and behavior of these fraudulent accounts and how to identify them before a payment is executed, especially in the case of scams. Raj showed how BioCatch mule account detection models have identified 75% of orange accounts even before funds are received. About half of the accounts are already created for criminal purposes, another 40% are managed collusively, and only 10% are victims. Regardless of the case, BioCatch technology identifies anomalies by correlating device data, network transactions and behavioral intelligence combined with the network effect to track other connected shell accounts. Raj ended the presentation by complementing the view presented by Gadi: Mule activities are at the heart of fraud, whatever it may be.
Customer Panel: Stop an Orange Account Before You Pay the Bill
Speaking on the customer panel were Lilian Rhodas, Head of Fraud Prevention at Banco Safra, Eduardo Mazon, CIO at Banco BMG, and Marcos Girotto, Head of Fraud Prevention and Data Science at Itaú. The discussion was moderated by João Bezerra, current board member and technology investor, who served as a Managing Director in charge of Itaú's technology area.
The discussion generated lots of interaction and participation from attendees. The discussion focused on:
Fraud prevention challenges in a complex scenario and how traditional systems fail to detect fraudulent activities.
Discussion on new Central Bank regulation that holds institutions accountable for orange accounts and expectations to equalize criteria and standards to foster collaboration and more offensive action of this type of crime.
What are the early signs of Operation Orange and actions to stop the spread of the network. This was an open discussion on how to protect institutions and customers and how collaboration is key among banks.
Customer Experience + Security. The perspectives cannot be separated, and the teams are complementary to put the customer at the center of operations.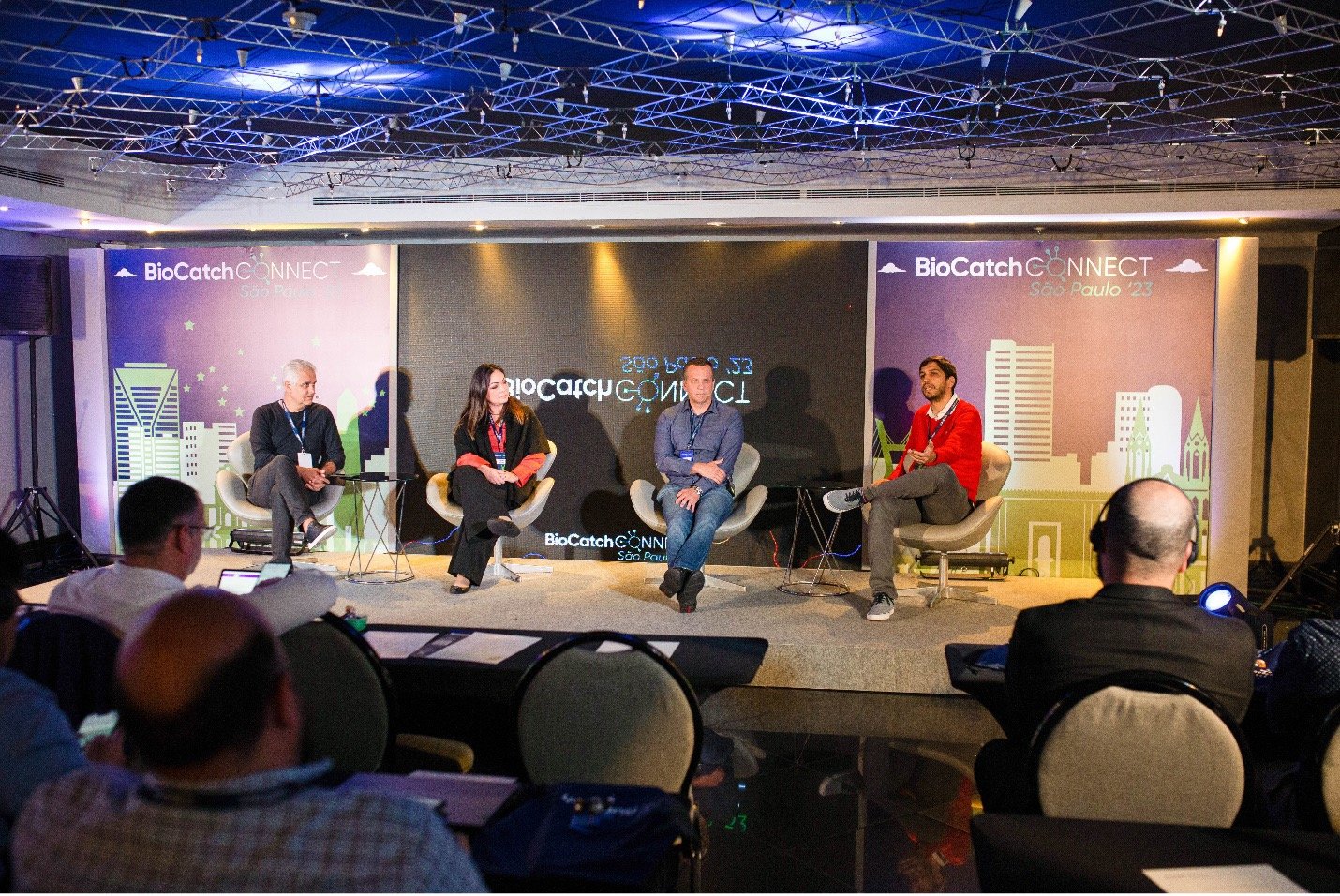 Several BioCatch customers gathered to discuss how they are addressing complex fraud threats including mule activity (orange accounts)
Product Roadmap
Ayelet Eliezer, Senior VP of Products at BioCatch, began by outlining the market pains that have guided our product roadmap, placing them in order of priority. This approach ensures that our customers have the confidence that our focus areas are aligned with the current and future needs of the evolving fraud prevention industry. Ayelet went on to discuss notable advancements in our existing solutions, highlighting the latest in the market and in particular behavioral biometrics. In addition, she revealed some exciting new projects her team is currently working on and reiterated what Gadi mentioned earlier in the day: the importance of working together to create a comprehensive fraud detection network.
Guest Speaker: Rogelio Garduño, Scotiabank
Next, we had the honor to welcome Rogelio Garduño, Executive Director of Fraud Prevention at Scotiabank Mexico, who shared in great depth the Mexican market scenario. Rogelio also shared Scotiabank Mexico's strategies to respond to digital fraud threats and how BioCatch has helped the bank to provide more security and less friction for its customers, in addition to significantly improving its fraud rates despite the growth of online transactions. The exchange of experiences and challenges between the different Latin American markets was very rich.
Scams, Orange Accounts and Refunds
Cassiano Cavalcanti, Pre-Sales Director for Latin America, concluded the day with his session focused on how the UK has been leading the discussion and approach around customer reimbursement for scam victims by moving towards a shared liability model between sending and receiving banks. It was interesting to see the similarities and learnings that we can apply to the Latin American market.
Bringing the Day to a Close
To bring the event to a memorable close, a cocktail party was held that provided a relaxed atmosphere, perfect for networking and sharing experiences. Amidst laughter and stimulating conversations, important connections were made. Participants from the financial market, with their diverse experiences, shared ideas and established professional ties. This favorable atmosphere boosted the emergence of new collaborations and projects.
A video recap of the day's events can be found below.
We look forward to the next gathering!