BioCatch has been named an Overall Leader for Fraud Reduction Intelligence Platforms by KuppingerCole as well as a Leader in Product and Innovation. This is the second time BioCatch has received this important ranking, also being acknowledged as a leader in 2021.
As fraud and security professionals feel the pressure to consolidate their technology stack, it is imperative that fraud detection and prevention solutions offer a complete mix of capabilities, including behavioral biometrics, device intelligence, identity proofing, and bot detection and management, to address multiple types of fraud. This is examined under Product Leadership where KuppingerCole acknowledges that "functional strength and completeness of services" are demonstrated by leaders in the category.
Innovation is another core component of the Leadership Compass and is not about just delivering a "constant flow of new releases," as noted by John Tolbert, lead analyst and author of the report.
"Rather, innovative companies take a customer-oriented upgrade approach, delivering customer-requested and other cutting-edge features, while maintaining compatibility with previous versions."

Constant innovation has been at the center of BioCatch product development since the company was founded in 2011. Most of the industry-leading solutions we offer today were developed in partnership with our top clients including Account Opening Protection, Social Engineering Scam Detection, and Mule Account Detection. The collaboration led us to launch our Client Innovation Board in 2020 where we work with leading global banks to explore new, creative and cutting-edge ways to leverage and scale the unique attributes of behavior.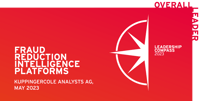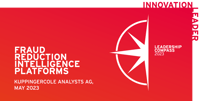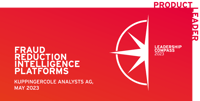 While it is an honor for BioCatch to receive this acknowledgement, it is an even bigger honor to have been repeatedly recognized by KuppingerCole for leadership in product and innovation. We look forward to continuing our mission of finding new ways to wield the power of behavioral intelligence to fight fraud and financial crime.

Access a full copy of the Leadership Compass for Fraud Reduction Intelligence Platforms by clicking here.