You could not have asked for a better location or better weather on October 11th when we brought the best fraud fighters in North America together at BioCatch Connect to learn, collaborate, and well, connect. Under perfect blue skies with an amazing view overlooking the Hudson River, over 60 leaders from the top banks across the U.S. and Canada took a seat to get the day started.
BioCatch CEO, Gadi Mazor, kicked off the event by welcoming guests and thanking our customers for their contribution to BioCatch's success and helping us reach key milestones in 2023. Gadi continued by noting the critical role our customers play in the innovation process by sharing numerous examples of how we have partnered with the world's leading banks to develop solutions to solve the most challenging fraud problems in recent years.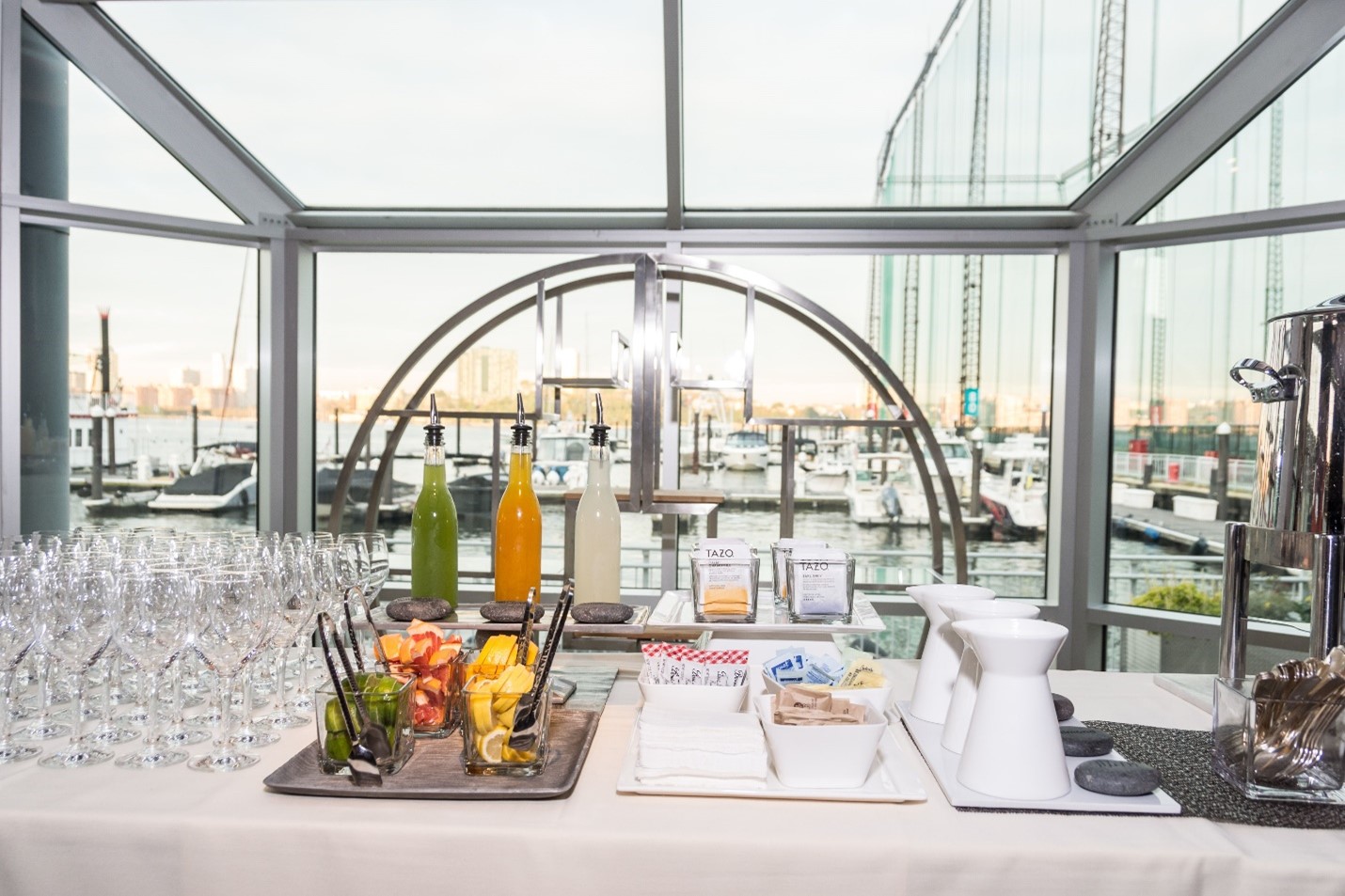 A room with an amazing view

Keynote: Designing for the Human to Fight Fraud

Following Gadi's welcome, the day continued with keynote speaker, Theresa Payton, the first female White House Chief Information Officer. In her session, The Journey to Future Proof Your Customers and Business: Designing for the Human to Fight Fraud, Theresa shared how the greatest point of compromise today is people themselves. Thinking about the case of business email compromise, she noted how simple things we share on social networking sites, such as celebrating a new position on LinkedIn, makes people easy targets for criminals.
Theresa also recounted the role instant payments, cryptocurrency, and other platforms now play in the fraud ecosystem, making money laundering easier for the criminal to do and harder for the bank to detect. "It used to be that they had to do a lot of this stuff in person. They had to get the gift cards, or they had to go to the ATM, or they had to do a wire transfer," Theresa stated. "Now they can use consumer-to-consumer, cryptocurrency, and different payment platforms to move the money around. So, your job just got that much harder."
In closing, Theresa shared that while criminals are using artificial intelligence (AI) to imitate people and increase the effectiveness of attacks, financial institutions can also leverage AI technology to improve risk scoring, transaction and fraud analytics, and KYC and customer due diligence processes.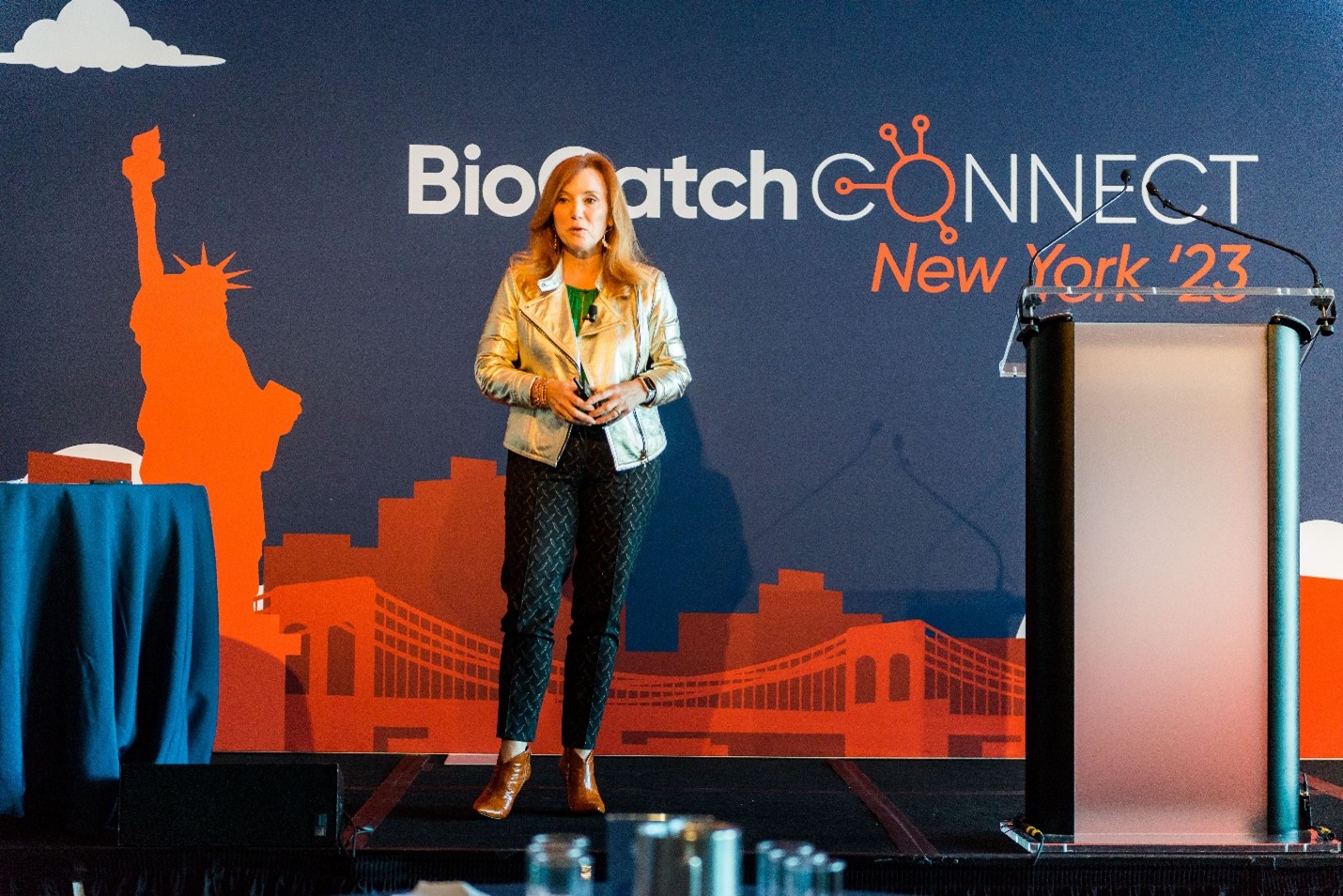 Theresa Payton, first female CIO in the White House, delivers the opening keynote to kick off the day.


Check Fraud: An Old Threat Resurges

After Theresa's powerful keynote and a short networking break, Sharell Barshishat, Senior Threat Analyst, and Raj Dasgupta, Director of Global Advisory at BioCatch, took the stage to talk about the resurgence of check fraud and innovative approaches that BioCatch is taking to address this decades-old problem. With more consumers on the go and unable to get to a branch during business hours, the demand for services such as mobile check deposits has grown.
According to the Financial Crimes Enforcement Network (FinCEN), banks saw an 84% increase in check fraud last year showing that despite fewer paper checks being in circulation, this has not stopped criminals from taking advantage of this channel to defraud banks and facilitate money laundering. Sharell and Raj shared multiple use cases of how financial institutions can leverage behavioral and device intelligence to provide a check deposit risk score and stop bad check deposits.


Customer Panel: How Banks and Law Enforcement Are Disrupting Scammers

Next, a distinguished panel was formed to discuss the most pressing threats currently facing banks in North America and why prosecution is so difficult. Speakers on the panel included Fabian Goncalves, VP of Fraud at Scotiabank, Phil Passero, VP and Financial Crimes Manager at M&T Bank, and special guest, Alona Katz, a prosecutor in the Brooklyn District Attorney's Office.
Moderating the panel, Raj Dasgupta asked about a threat we are hearing from banks in North America that is increasingly impacting their customers: remote access scams. Phil Passero noted that these attacks are unique because they will have a consistent IP and consistent device known to the user. He shared how his team uses the BioCatch ATO model to leverage additional risk signals such as timing anomalies, to disrupt potential scams. "We see that either the customer or the fraudster is in there, moving around, doodling, taking longer than usual," stated Passero. "We have been able to implement this into our strategies to identify scam-type behavior without affecting the entire bank as a whole."
Noting scams of all types have reached a new scale in recent years, with some people even seeing their entire life savings wiped out, Raj asked Alona how difficult it is for law enforcement to go after the criminals who perpetrate them. Alona shared that the biggest obstacle standing in the way of law enforcement is the international complexity involved in digital crimes. "I have some domestic reach because of cooperation with other states, but once I see that a target is in an international or non-law enforcement cooperative country, the chances are pretty much zero that I am going to extradite someone and bring them back to a court in Brooklyn."
Alona shared ways law enforcement is working to disrupt criminals, even if they can't be officially prosecuted. "A perpetrator may be a network of 100 different people, but what infrastructure, software, and technology are they using to get to my victims." Criminals, like consumers, use common tools and platforms such as Gmail, Facebook, WhatsApp, web servers, and dot com URLs that are based in the United States. "I can still work to disrupt their operations and limit their reach."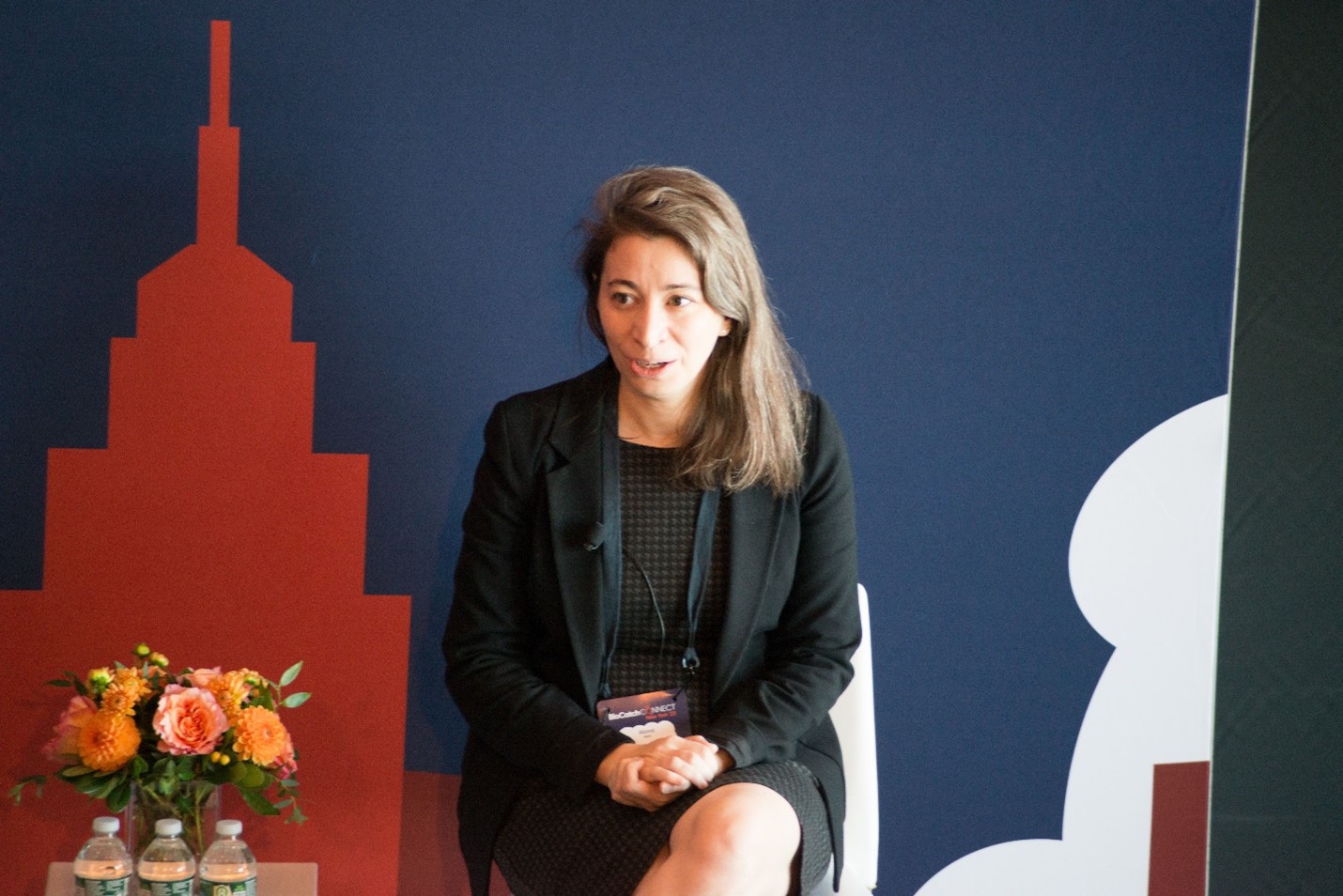 Alona Katz, a prosecutor in the Brooklyn District Attorney Office, discusses the challenges law enforcement faces in bringing cybercriminals to justice.

Afternoon Keynote: A Road to Customer Safety

After the insightful Q&A with BioCatch customers, we broke for a delicious lunch of salmon, steak, pasta, vegetables, salad, and every kind of dessert your sweet tooth could desire. During lunch, many attendees used the time to connect with their peers or visit one of the many interactive stations that were set up throughout the room. The station that attracted the most traffic was BioCatch Scout, where visitors got to see a demo of the latest link analysis technology that reveals the depths of global criminal networks of connected accounts, devices, and individuals associated with fraud or money laundering.
As the curtain started to close and attendees rushed back to take a seat, we prepared for our afternoon keynote speaker, Trace Fooshee, Strategic Advisor in the Fraud & AML practice at Datos Insights. Trace's session, A Road to Customer Safety: The Emerging Enterprise Strategy to Build and Sustain the Foundation of Genuine Trust Relationships, highlighted how the shift in fraud tactics leading to a rapid growth in scam activity (what he has coined the "scampocalyse") has had a ripple effect and put a renewed focus on receiving side detection. Trace expressed that conventional approaches to financial crime management have changed little as there have been few incentives for financial institutions to expand their control infrastructure beyond that which they are required to manage. This includes operational units (Fraud, AML and Cybersecurity) who are focused on a specific charter thereby missing opportunities to share, collaborate, and align on common goals.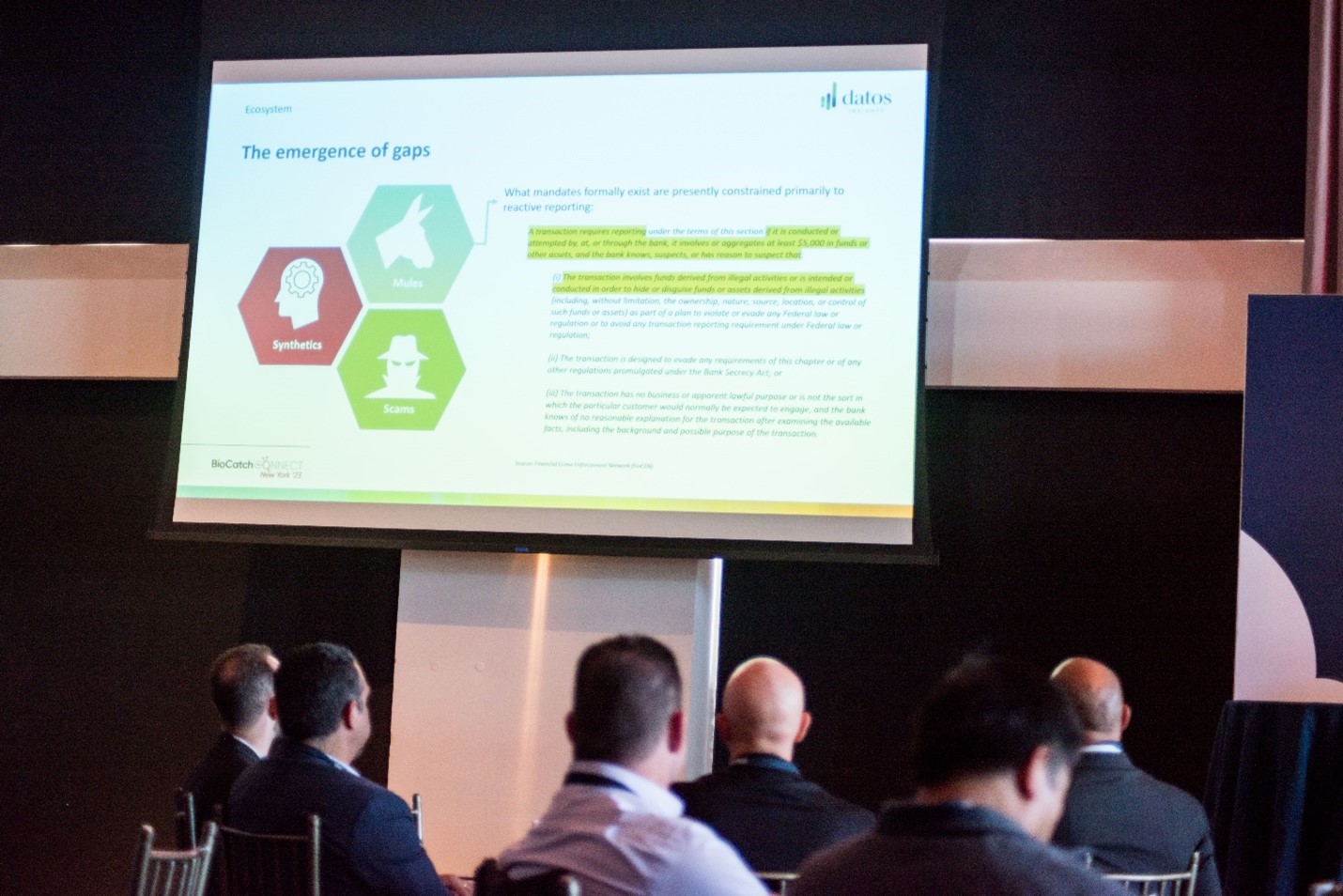 Trace Fooshee, Strategic Advisor at Datos, kicked the afternoon off discussing the importance of financial crime as part of corporate strategy.

Fraudsters Are Shady

After Trace's insightful keynote, Erin Englund, Director of Threat Analytics at BioCatch, took the stage for her session, Fraudsters Are Shady, where she demonstrated real-life cases and how behavioral intelligence was used to uncover fraud where other controls had failed to detect anomalous activity. Erin walked through the case of Passive Remote Access, a type of impersonation scam that has been hitting several U.S. banks hard. In these attacks, a criminal will typically impersonate a bank or government official to convince the user to download a remote desktop software tool. Different than a remote access attack where the victim downloads software to enable the criminal to access their device, Passive Remote Access attacks broadcast the device screen to the criminal where they guide the user through the payment process. The criminal never actually accesses the session. At the end of the session, Erin invited attendees to visit the Fraudsters Are Shady interactive station during cocktail hour for the chance to win new sunglasses.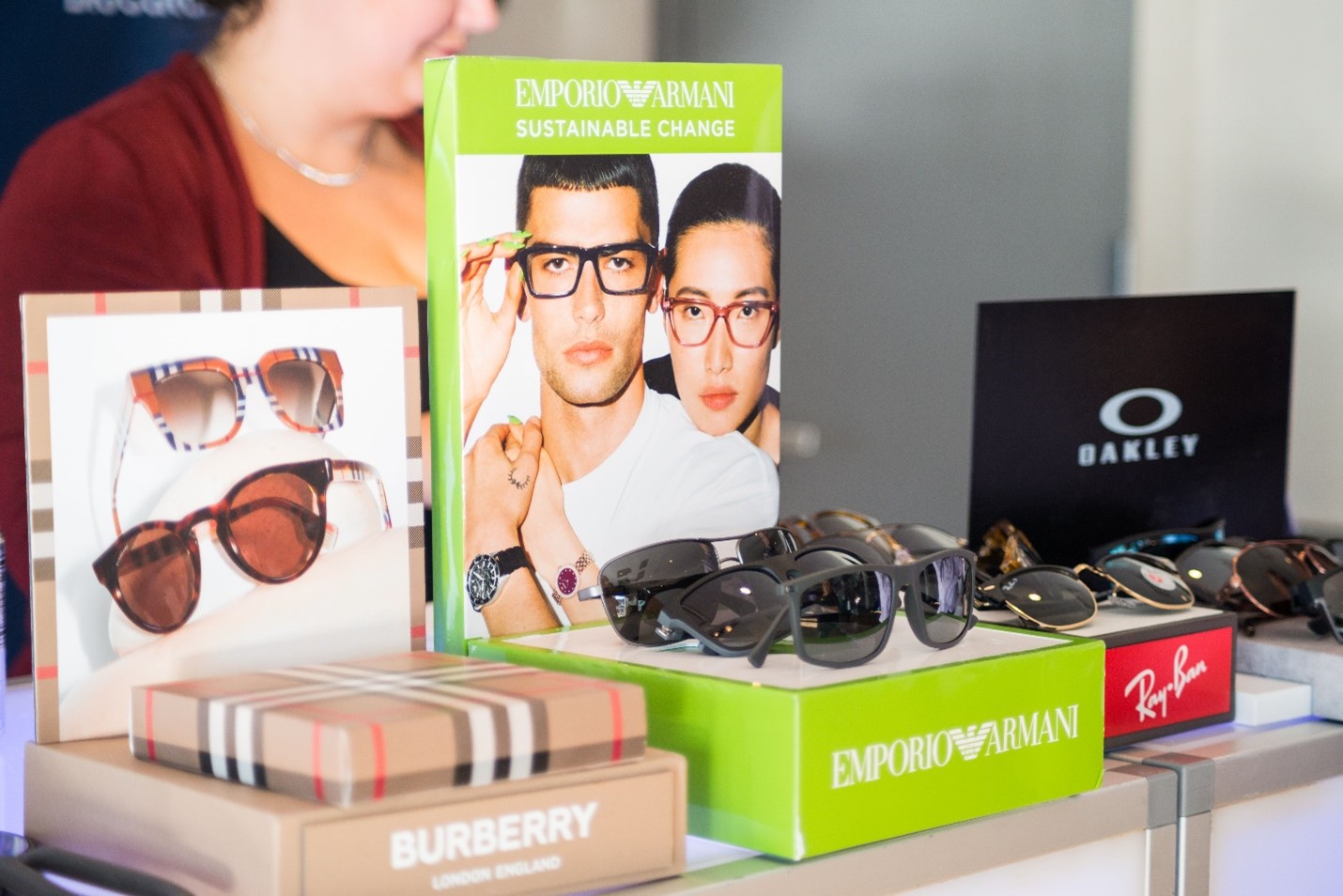 Fraudsters are shady. Attendees got to participate in a special game for a chance to win their choice of a variety of stylish sunglasses.


Closing the Day

The final session of the day featured Raj Dasgupta and Kevin Donovan, Vice President of New Products at BioCatch. Raj and Kevin dove into BioCatch's product roadmap, strategy, and emerging product innovations including advancements in mule account detection, device intelligence, and malware detection.
Threat Analyst, Sharell Barshishat, hosted a fun tabletop trivia game to test who was paying attention during the day and got the room laughing and in a light-hearted mood before the networking reception.
Finally, Mike Keating, Chief Revenue Officer, delivered some closing remarks and observations from the day, and thanked customers for attending the event. Then it was off to everyone's favorite part of the event: an open bar complete with fraud-theme related drinks (Moscow Mule, anyone?).


Realizing the Meaning of Connect

Nearly everyone hung around after the day of informative sessions to spend time networking with their peers which is where the true meaning of BioCatch Connect was realized. The event was a huge success, and the day and networking opportunities were most aptly summarized by one attendee in less than 50 words: "The sessions have been great, but the time dedicated to networking with other BioCatch clients has been the most valuable. It's great to hear about how others are using the tool, the challenges and success they're having as well as what components they're considering for the future."
Look back at the day's highlights by watching our video montage!