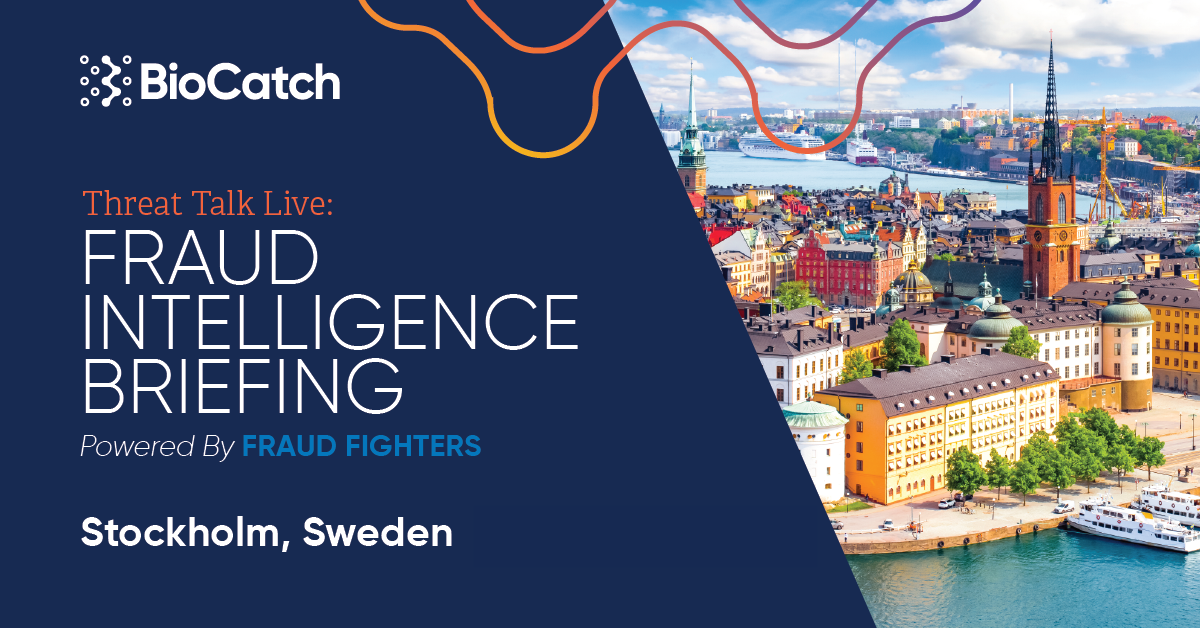 Join Us, And Let's Beat Fraud and AML Together.
You are personally invited to attend our exclusive in-person event along with your peers from neighbouring banks.
Date: 28 September 2023
City: Stockholm, Sweden
Venue: Radisson Blu Royal Viking, Stockholm
Address: Vasagatan 1, 111 20 Stockholm, Sweden
Time: 11am - 3pm (including lunch)
While retail banks often compete, we believe a different approach is required when fighting Fraud and Money Laundering. We believe that FI's are stronger together because a problem shared is a problem halved. Experts from our Global Advisory and Threat Intelligence teams want to hear more about your challenges, help you supercharge your strategies, and help you emerge victorious against Fraud and AML.
Agenda:
11:00​ - Introductions​
20 second intros from everyone in the room, and 15 minutes introducing BioCatch​
11:20​ - Fraud Intelligence Relevant to You​
Intelligence from our EMEA Fraud Report and Emerging Nordic Threats​
11:50​ - 10m NETWORKING BREAK​
12:00​ - Audience Challenges: Extended Discussion​
12:30 - Panel Style Discussion: Fraud Fighting Together - Success Stories from the Field​
Hear from some of our BioCatch customers and how working with BioCatch led to their fraud fighting success.​
13:15​ - 45m LUNCH: MID-SESSION BREAK & NETWORKING​
14:00 - Guest Speaker Slot​
Hear from a Financial Crime Specialist with more than two decades of experience working in the financial sector.​
14:30​ - The Importance of Moving with the Times​
Modern Solutions for Modern Threat types. information about our Scams and Mule solutions​
15:00​ - What Did We Miss Today? + Wrap Up​
A chance to define what was helpful today, what was missing and what we can do to follow up.
Guest speaker:

Marie Lundberg, CEO, Acronym Consulting AB
In 2017 Marie Lundberg founded Acronym Consulting AB, an independent firm specialised within all things Anti Financial Crime including Internal (independent) Auditing. Marie is a senior financial crime specialist with more than 28 years of experience within the financial sector. She has extensive international experience, working mainly in the Nordics, Europe, and the UK. She is a Certified Anti-Money Laundering (CAMS) specialist by ACAMS and a Certified Fraud Examiner (CFE) by ACFE. Marie is a believer of using data analytics and the importance of knowing and understanding your data, as well as your customers activities, behaviours, and transactions. She is on the IIA Sweden Advocacy Committee and serves as a chapter advisor to the ACFCS Nordic Chapter.
See you there.
The BioCatch Team.